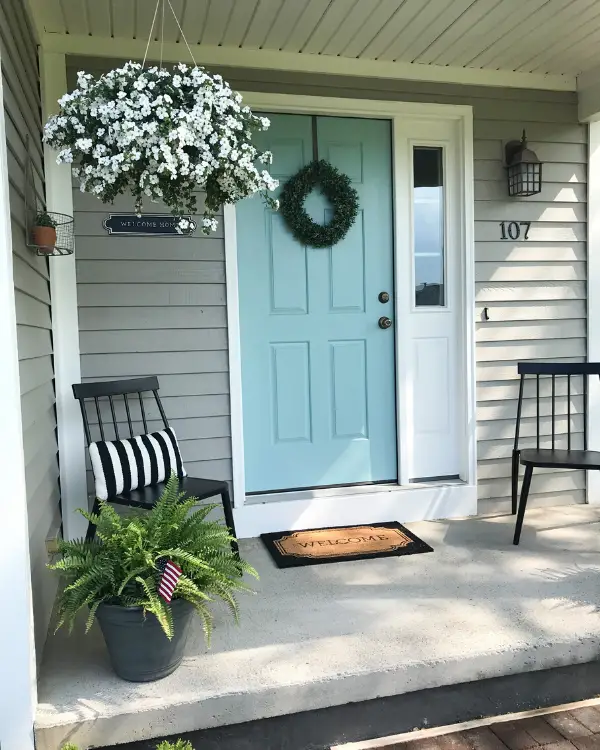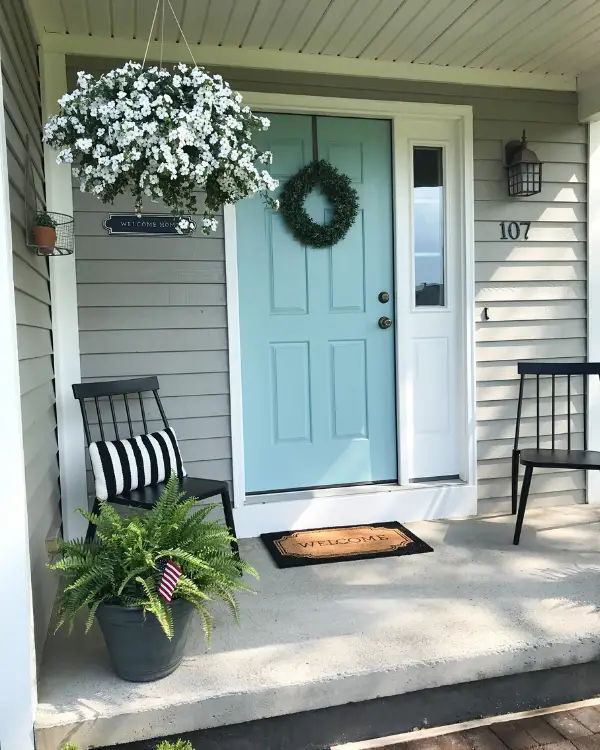 My Favorite Paint Colors (Sherwin Williams)
We all know that choosing paint colors is not an easy task. You can't just go and pick up some "gray" paint. There are so many to choose from with such subtle differences! I'm going to share with you my favorite paint colors.
(This post contains affiliate links. This means I receive a small compensation at no cost to you. For example, as an Amazon Associate I earn from qualifying purchases. You can read more about it here. Thank you for your support!)
When choosing paint colors, I like to look at rooms on Instagram and Pinterest and save ones that look good to me. It helps to see them in an actual space. So I thought I'd share what I've come up with as my personal favorites. Maybe this can help you on your search 😉
A lot of these colors are neutral, because they are personally what I like to have in my home!
To get a clear view of the colors, I DIDN'T USE FILTERS ON THESE PHOTOS. However, remember that lighting can change the look slightly from one photo to the next.
If you want to learn strategies for picking out paint colors, check out this post: https://www.thebrainandthebrawn.com/choosing-interior-paint-colors-7-strategies/
The Best Sherwin Williams Paint Colors
1. Accessible Beige
This is considered a "greige" but is more beige than gray. It is a nice subtle color. I chose it for our finished basement. I like how it's adds some color without too much color. It's just a touch of "greige" instead of feeling like full on tan or brown walls. Sometimes it reads off white even.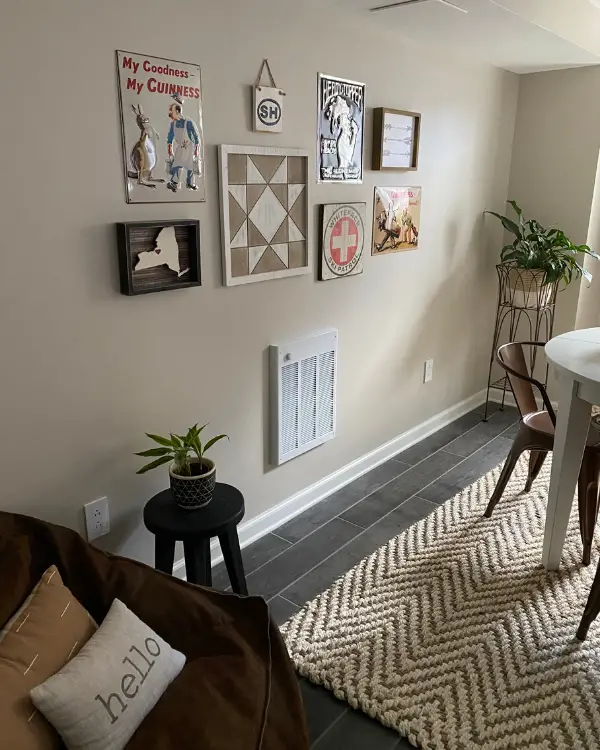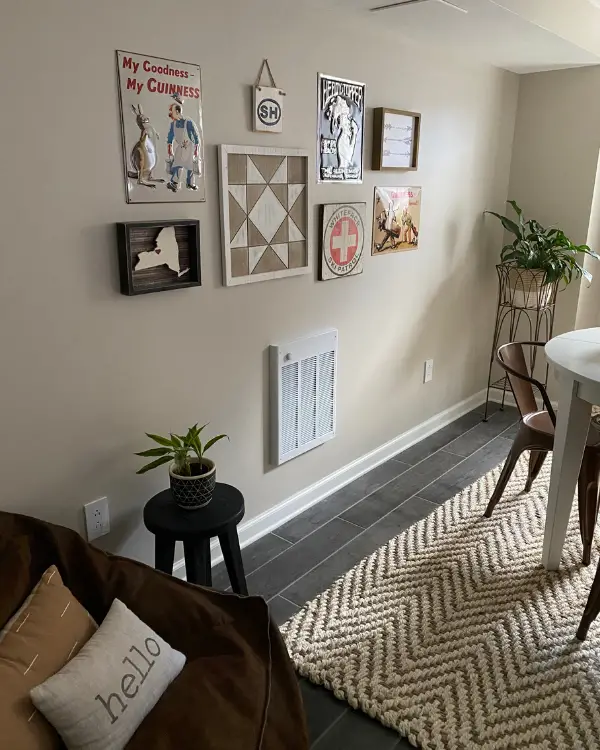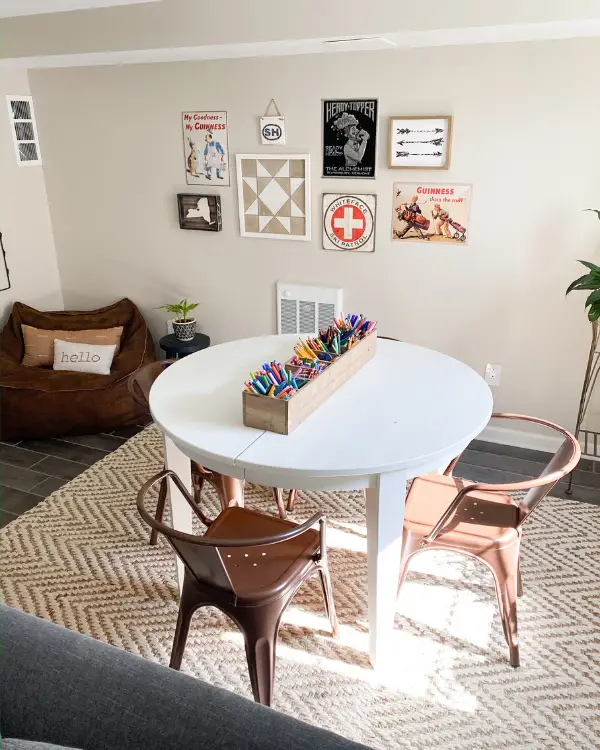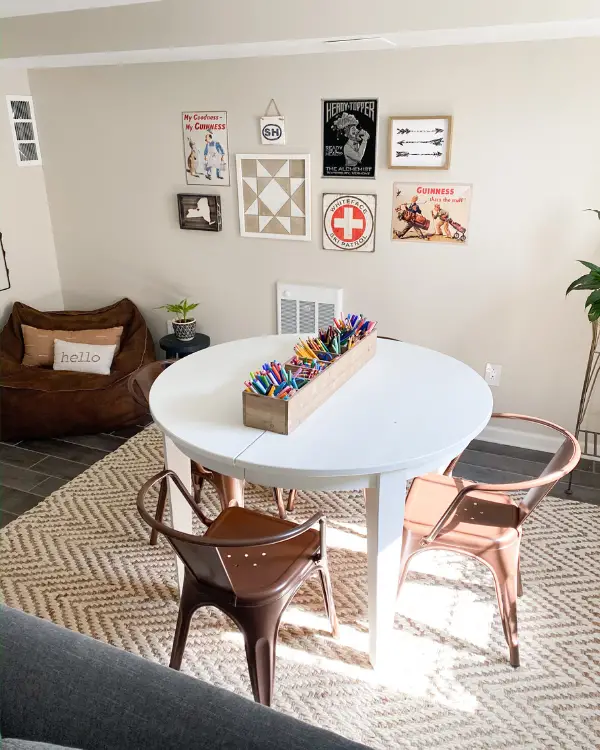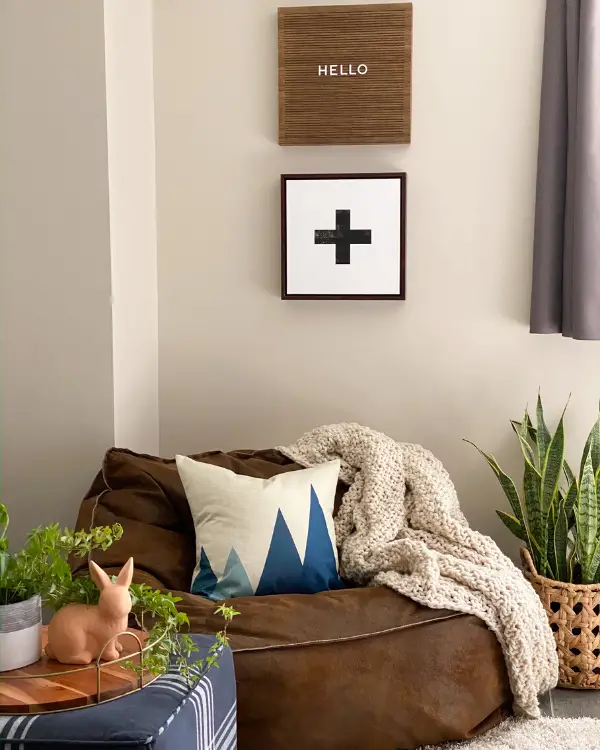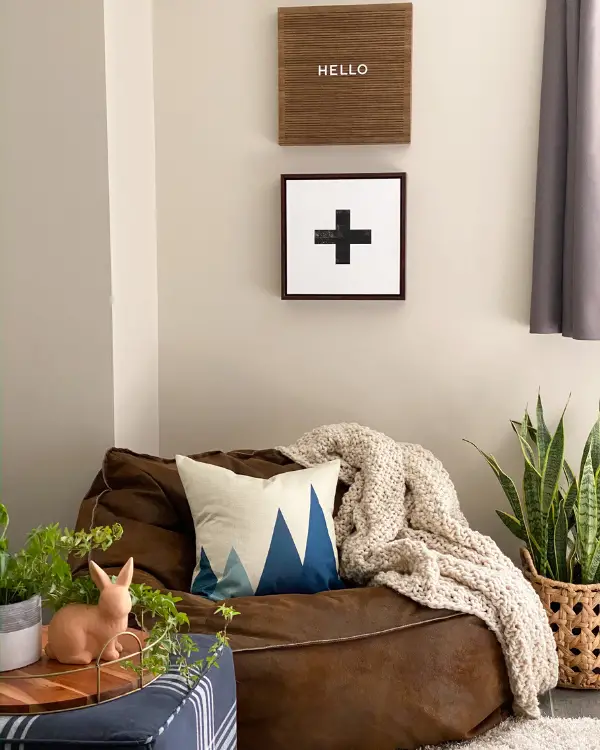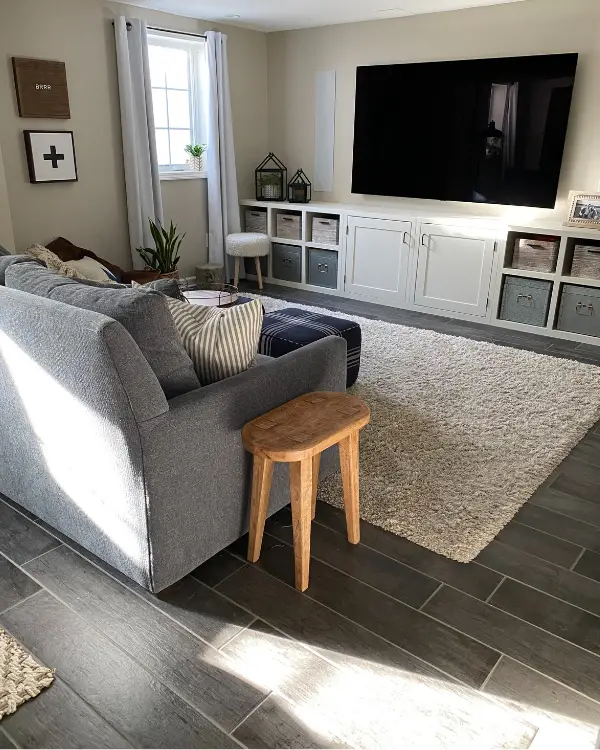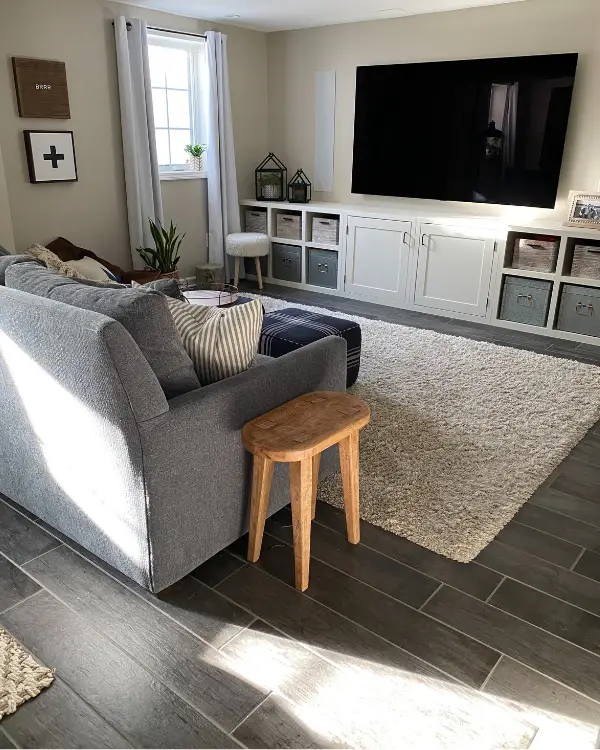 2. Alabaster
This is my favorite white. My go-to. I used it on the trim on the outside of my house, the trim inside (second time around), on built ins, my dining room chairs, a barn door, in my half bathroom, my entryway feature wall, family room and kitchen….I'm probably forgetting something, and I will use it again! I love that it is white without being super bright. Yet in some lights it does still seem bright. Some say it is actually more of an off white. It only looks that way to me if it is being compared up against a bright white. Even then it's more "almost" off white. To me it's just white and the perfect white.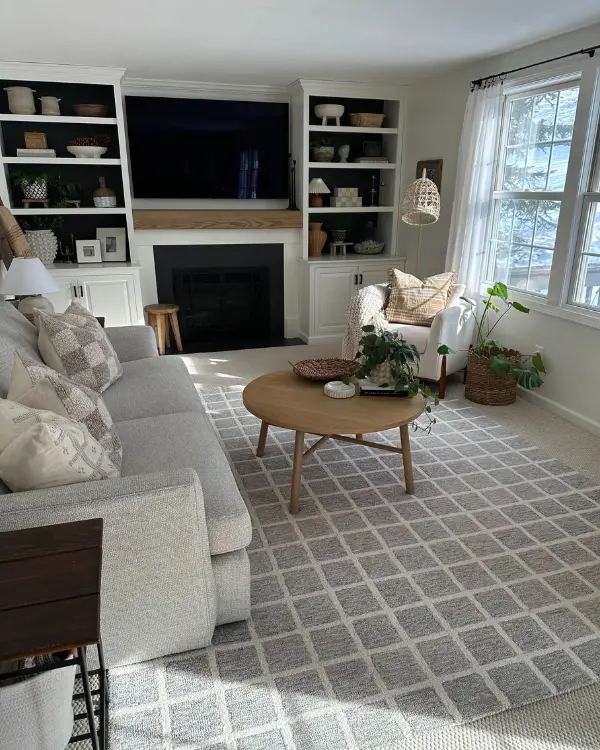 The walls, cabinets and trim are all in SW alabaster here in the family room.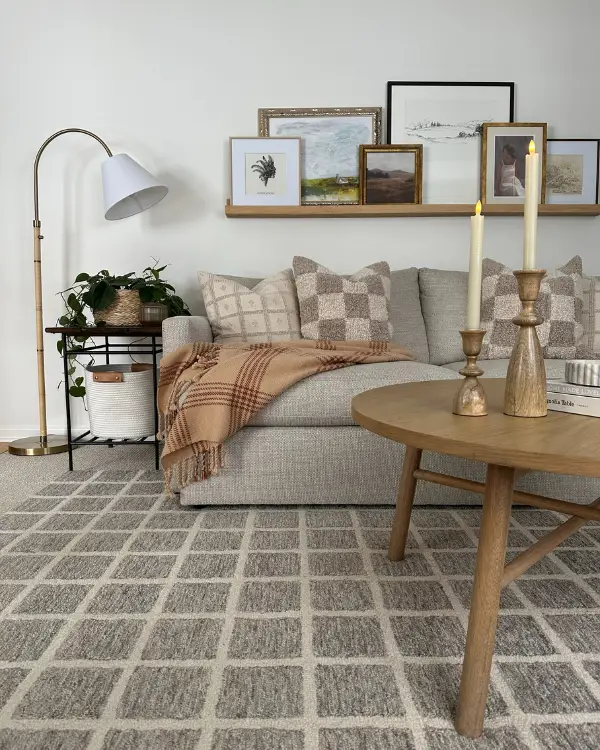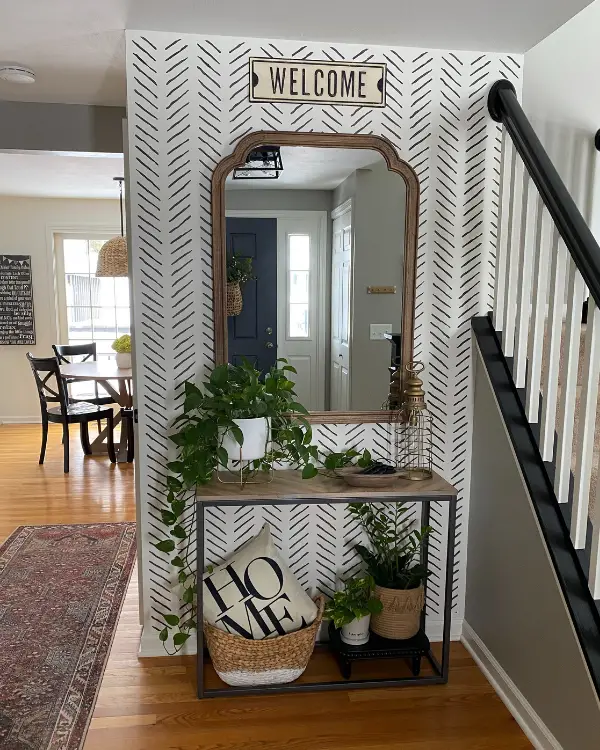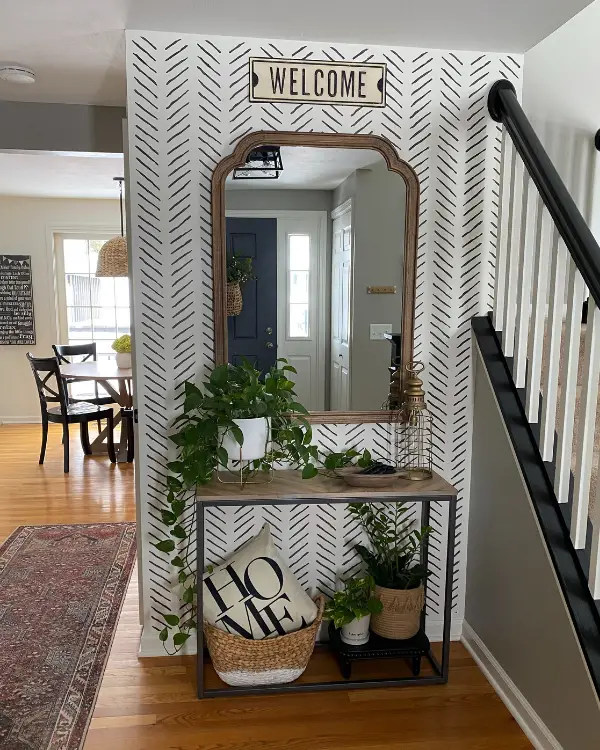 In some lighting or at different times of the day, it can look "almost off white" as it does in the background. However, the white used on this stenciled feature wall is also alabaster! You could even call it a bright white here.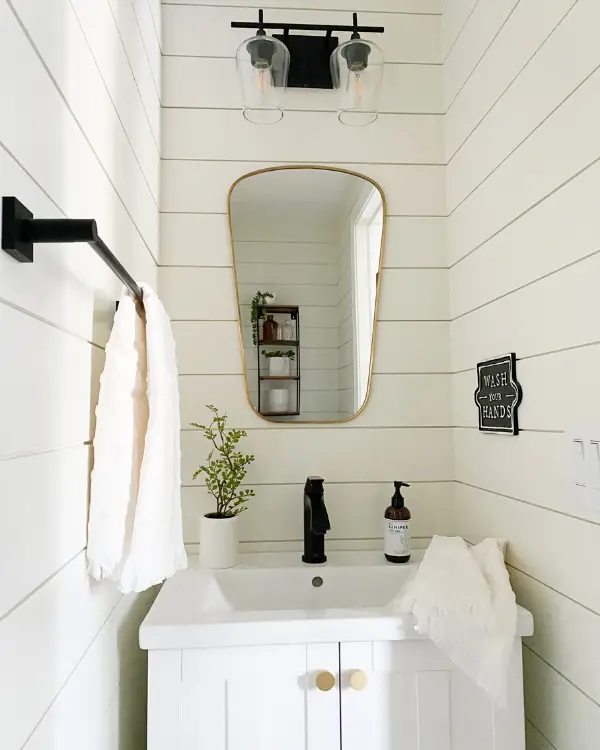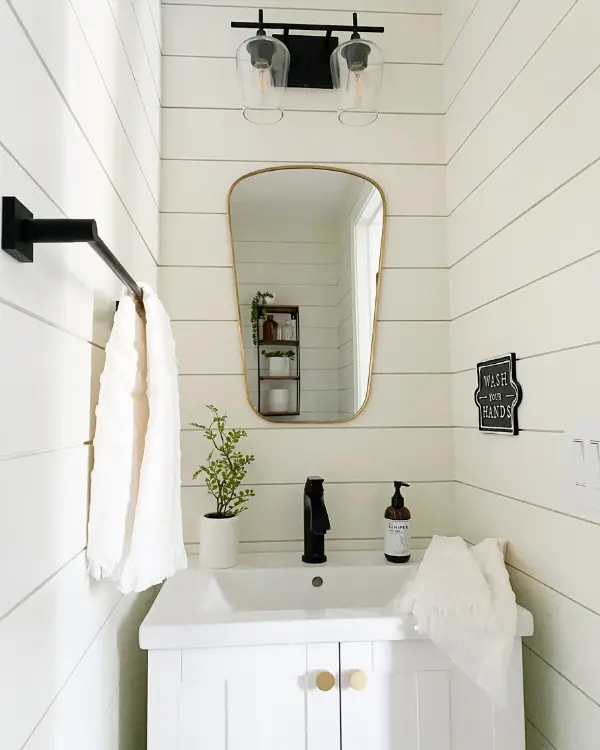 The shiplap in this bathroom is painted in alabaster. The vanity is not, so you can see the difference in the whites here. (I don't know the color of the vanity. It came in this color.)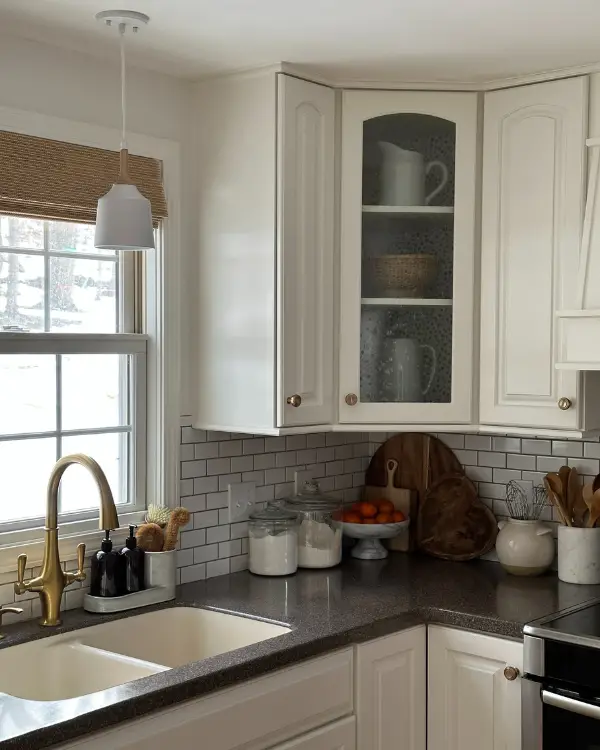 The kitchen cabinets are also alabaster. (You can check out this kitchen makeover here.)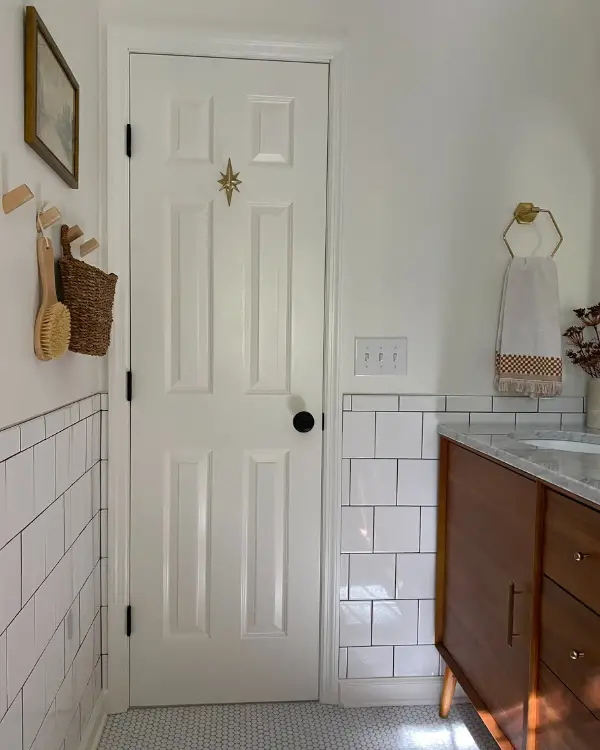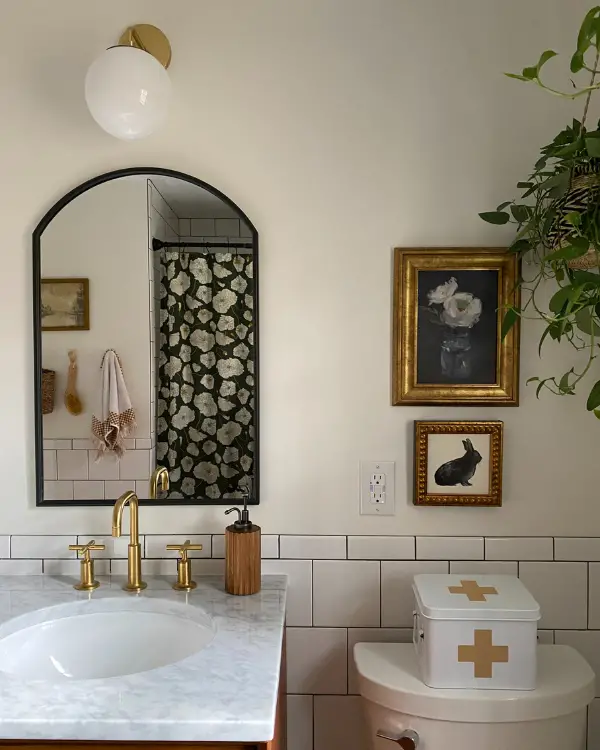 The walls, trim and door in this bathroom are all alabaster, but different sheens.
3. Iron Ore
Just as alabaster is a great white to me, I feel that iron ore is a great black. It's not super stark, it's a nice "light black." To me it's just right. You can see the difference here between the tiles (iron ore) and the darker black fireplace doors. However, if you are looking for a true black, this may be too light. In looking at it in other lights, it can read a little too much on the gray side.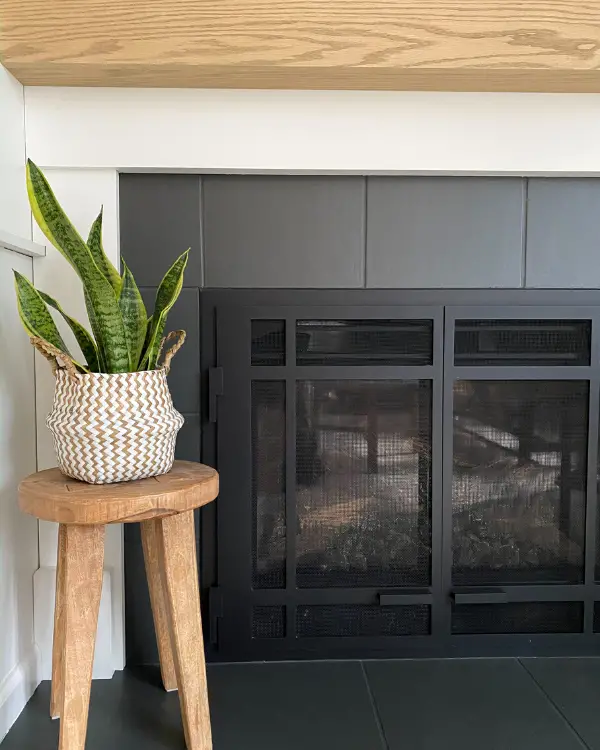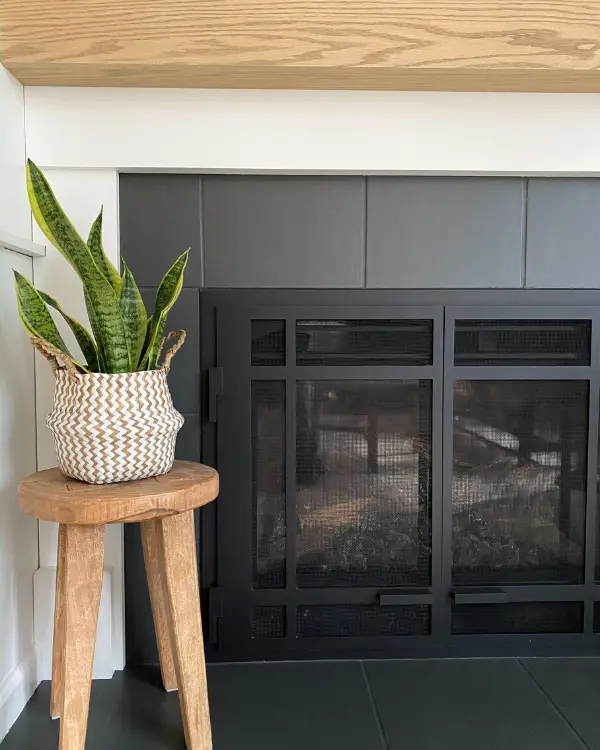 In the family room, I painted the fireplace tiles and behind the shelving all with SW iron ore. (You can read all about this fireplace makeover here.)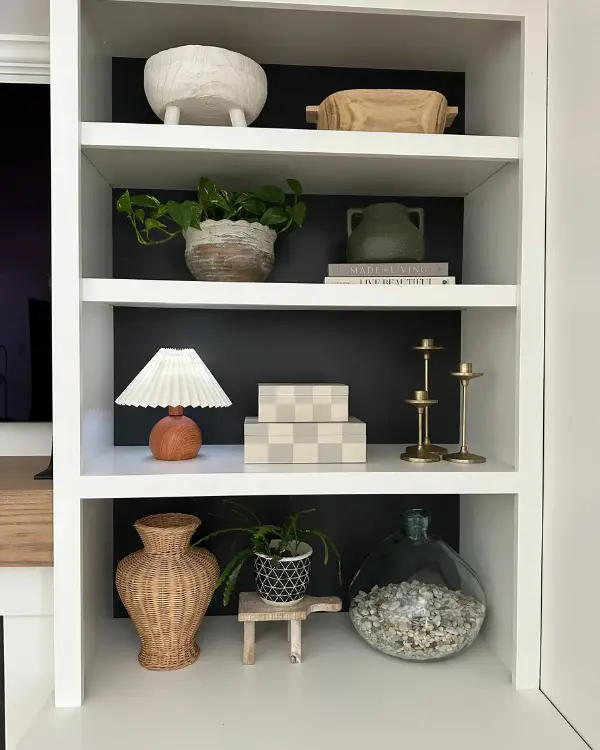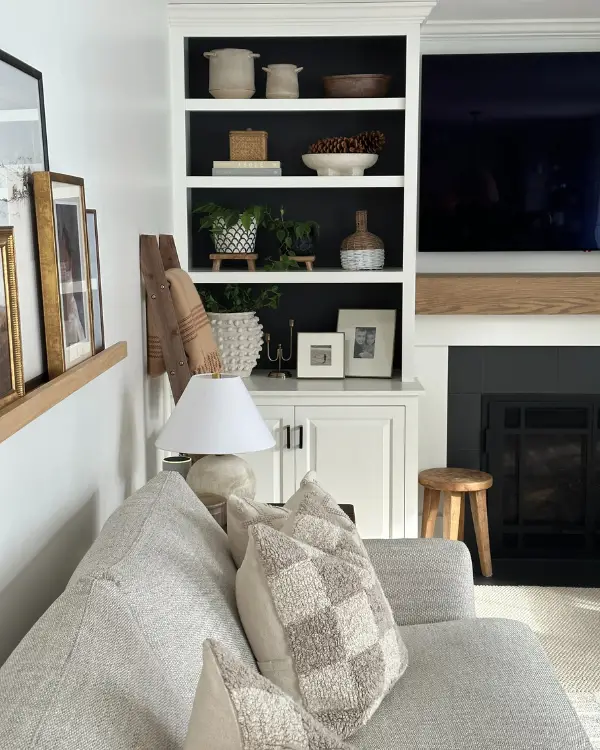 4. Peppercorn
SW peppercorn is a very dark gray. Sometimes it reads almost black, but it is a true dark gray. I love the look of it!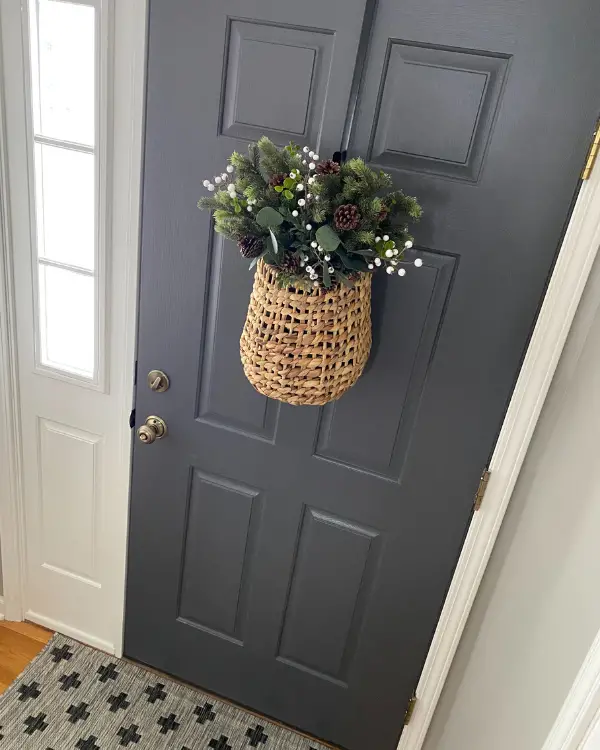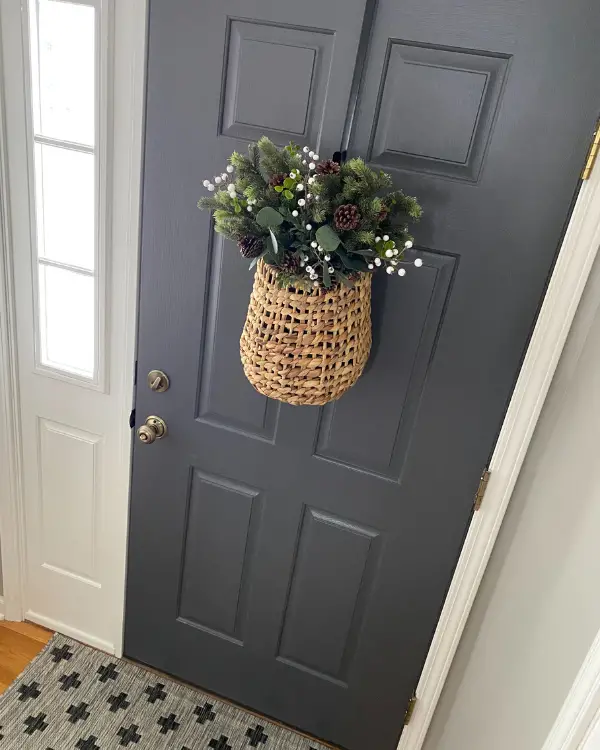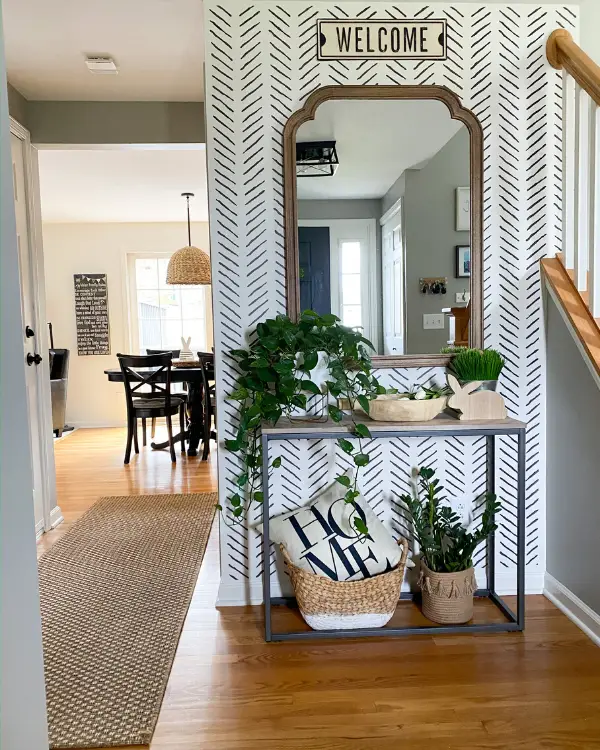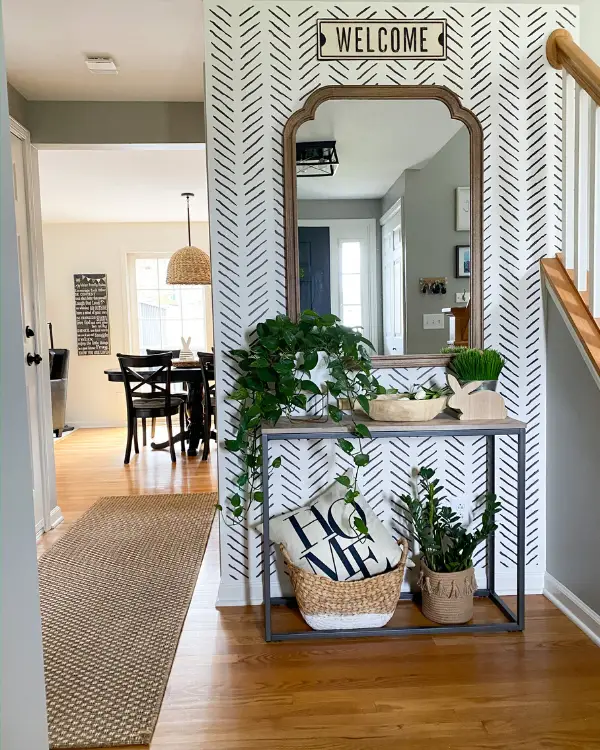 The stenciled chevron is in peppercorn, and here it does come across as black.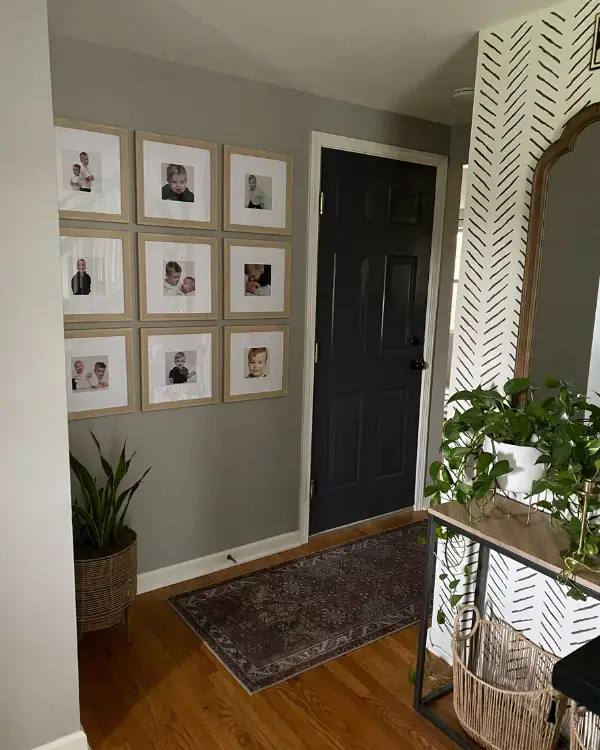 This door is in peppercorn as well.
5. Mindful Gray
Since mindful gray and repose gray (coming up) are similar, and just to get a better grasp on these colors, here is a color chart I found online. I have only used those two colors on this chart. They are just great gray colors. They read as true grays or "greiges" that are more gray than beige.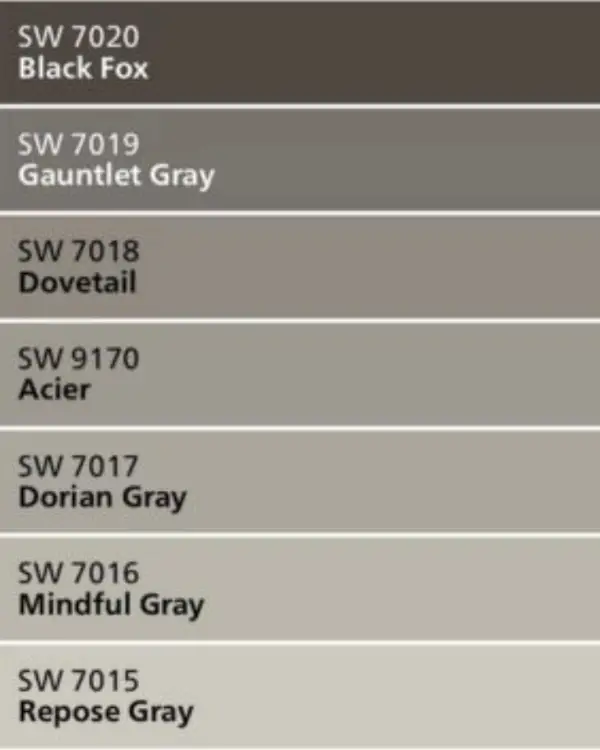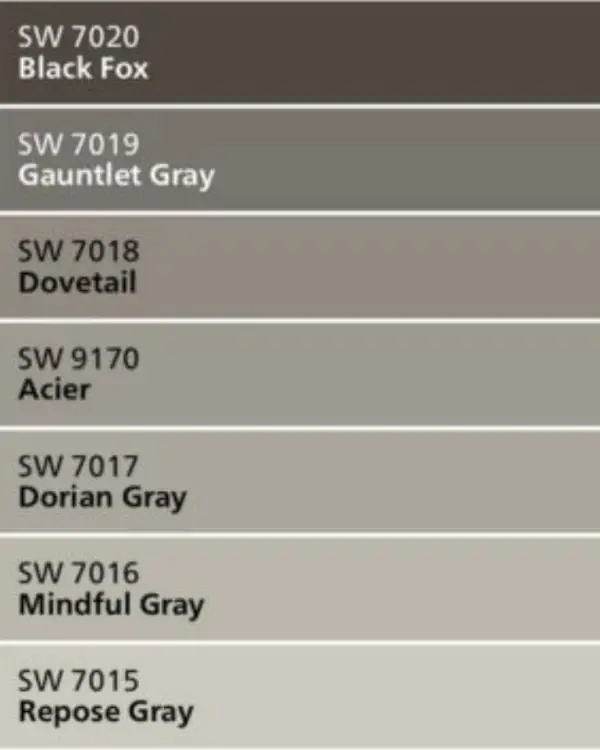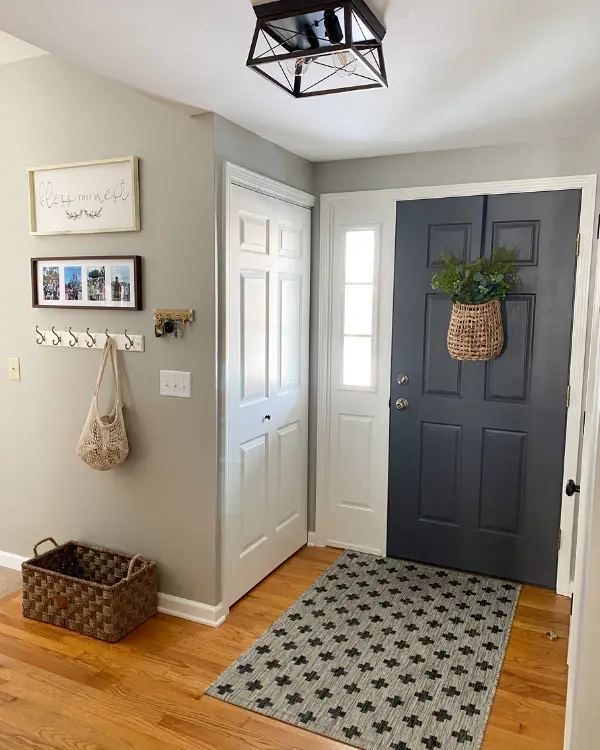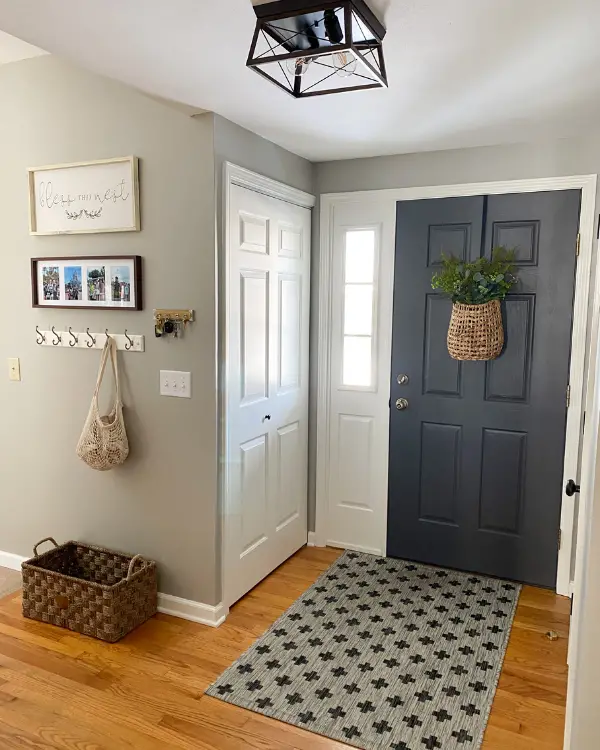 The entryway and living room in our house are in SW mindful gray. The door here again is peppercorn and the trim around it is alabaster. (You can read more about this entryway here.)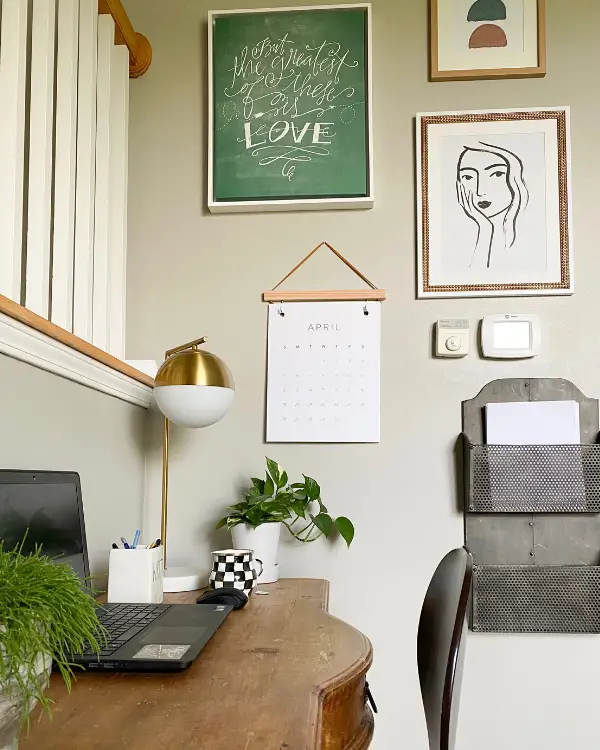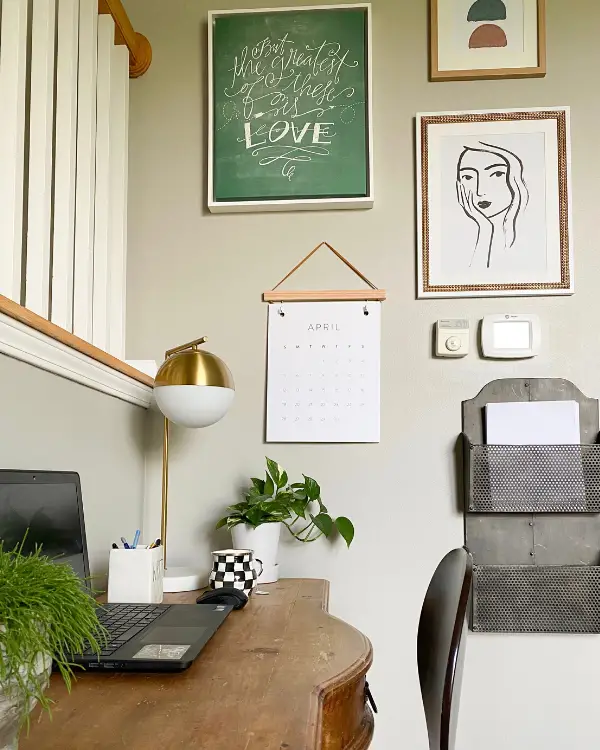 This is mindful gray in the little corner office in the living room.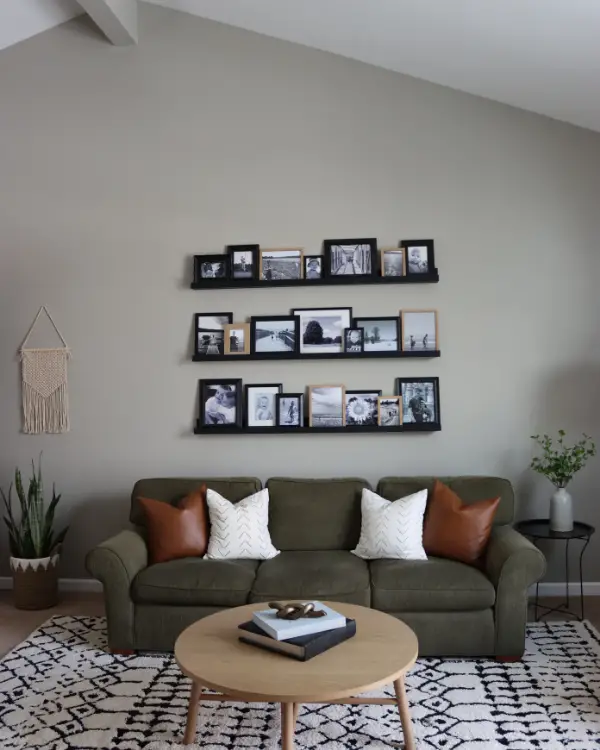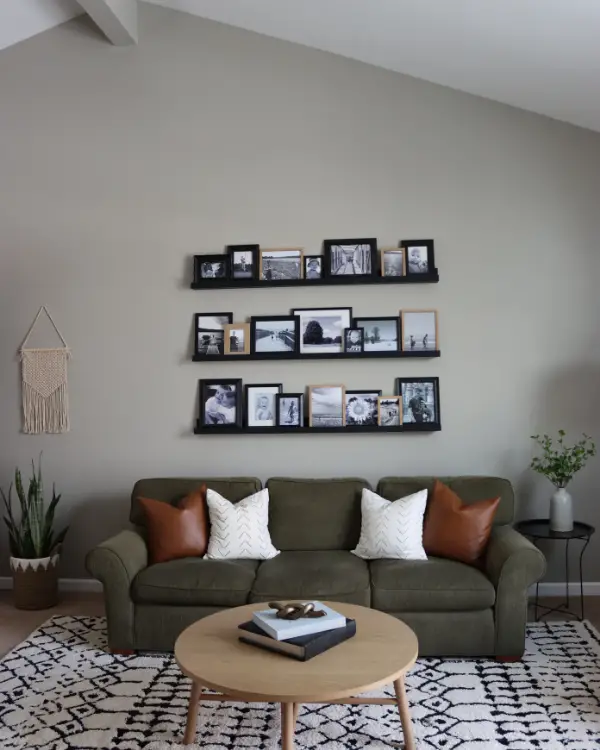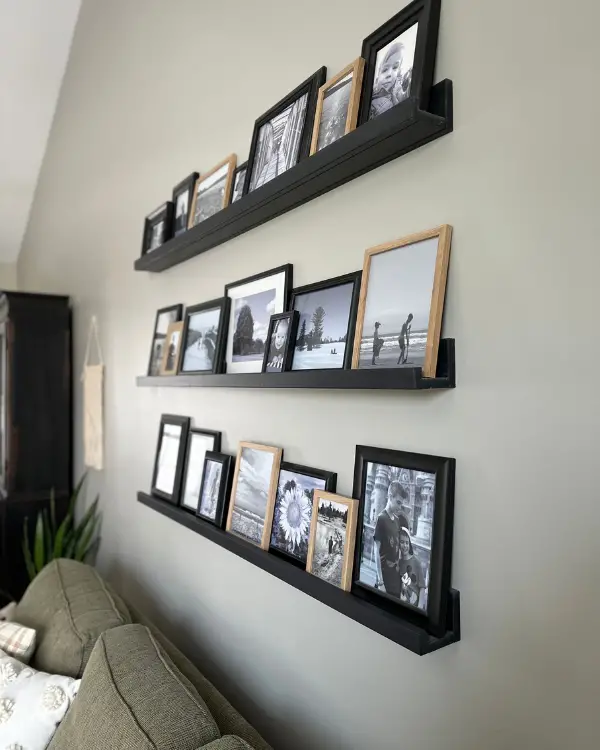 6. Intellectual Gray and 7. Urbane Bronze
These are the only two colors I have used on this chart. I put both of the charts next to each other towards the bottom of this post so you can compare them. You can see that these greiges have more brown in them.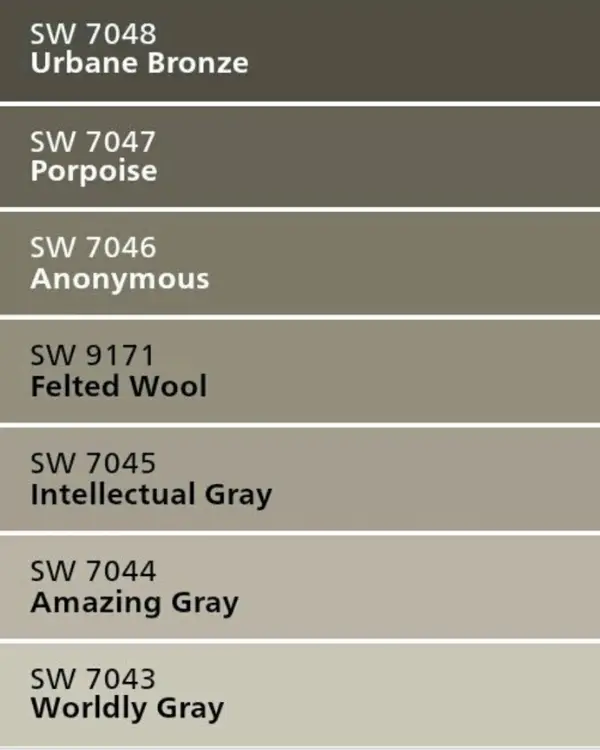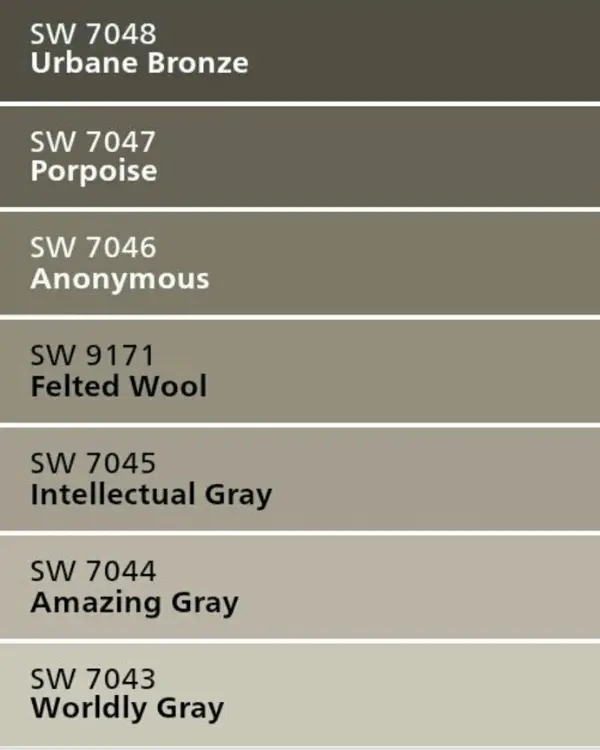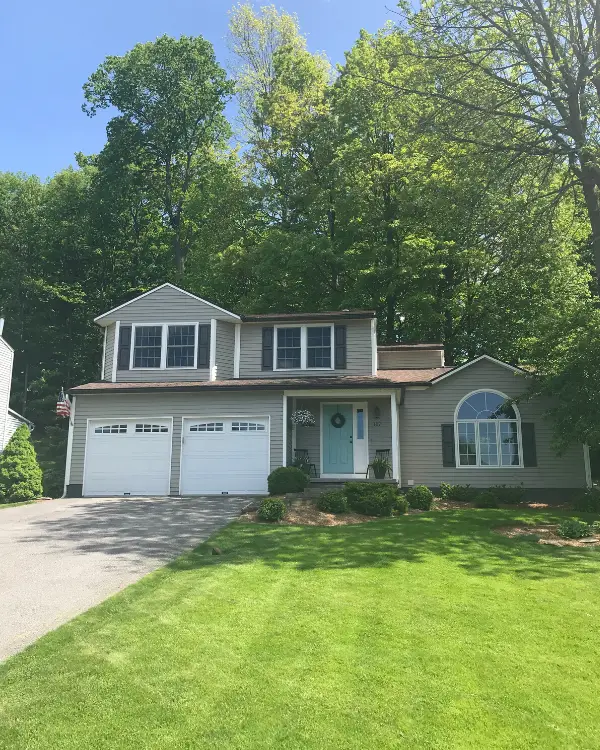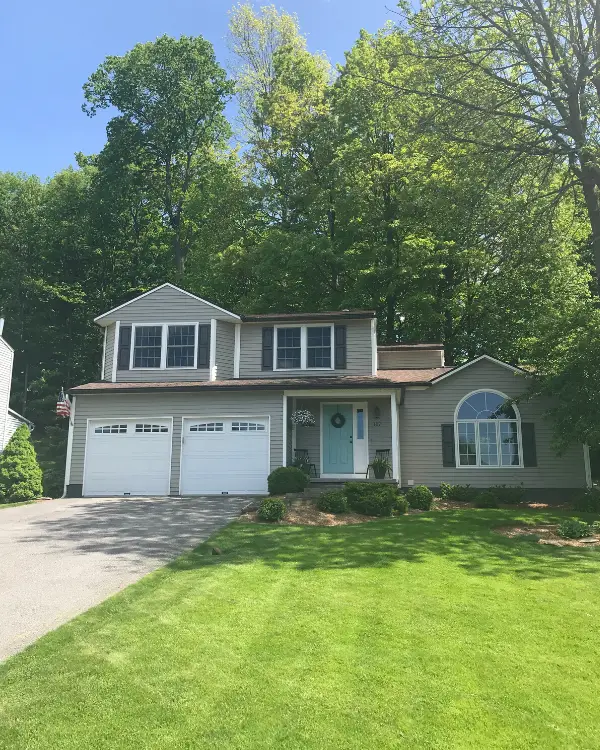 We used intellectual gray on the whole exterior of the house. The shutters are SW urbane bronze. The trim is alabaster (the garage doors came in the white color that they are, and it matches well with the alabaster!).
8. Festoon Aqua
Here is some color! I wanted a pop of color on the front door of the house. I love this one!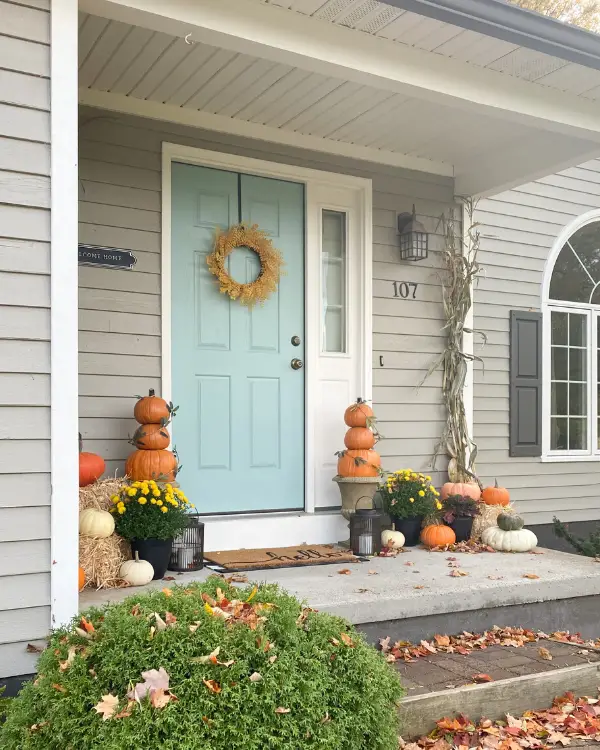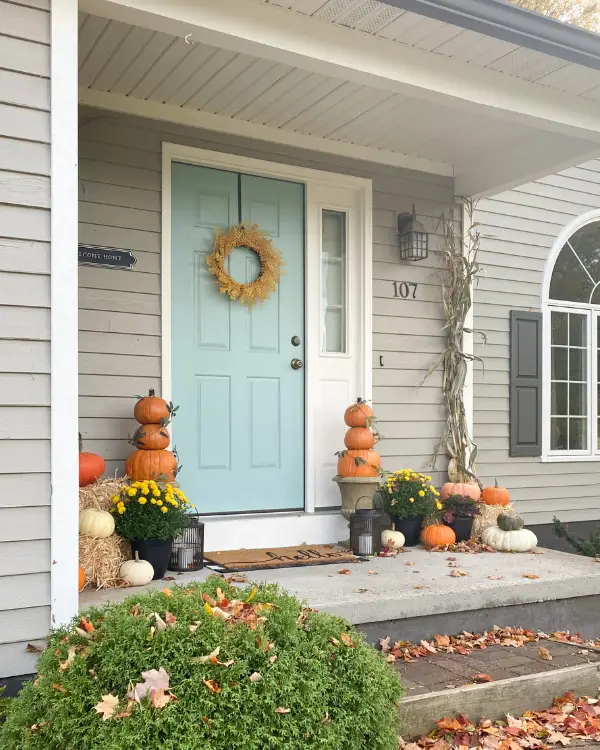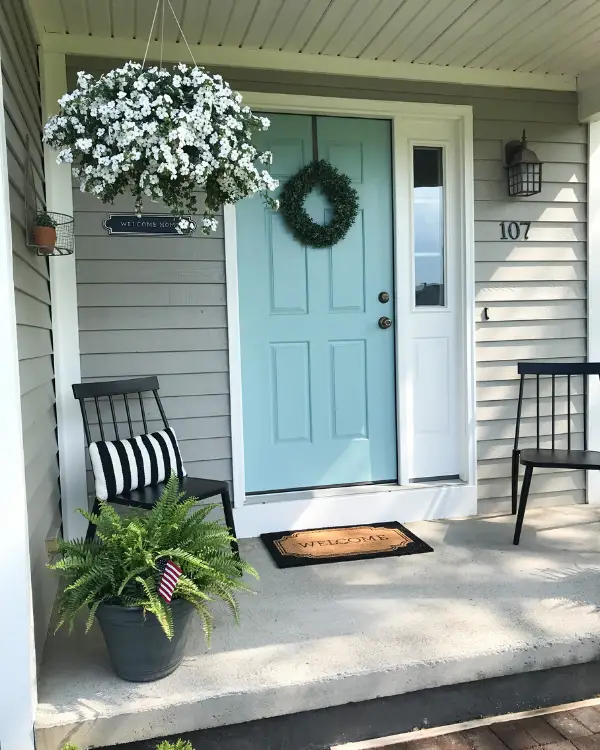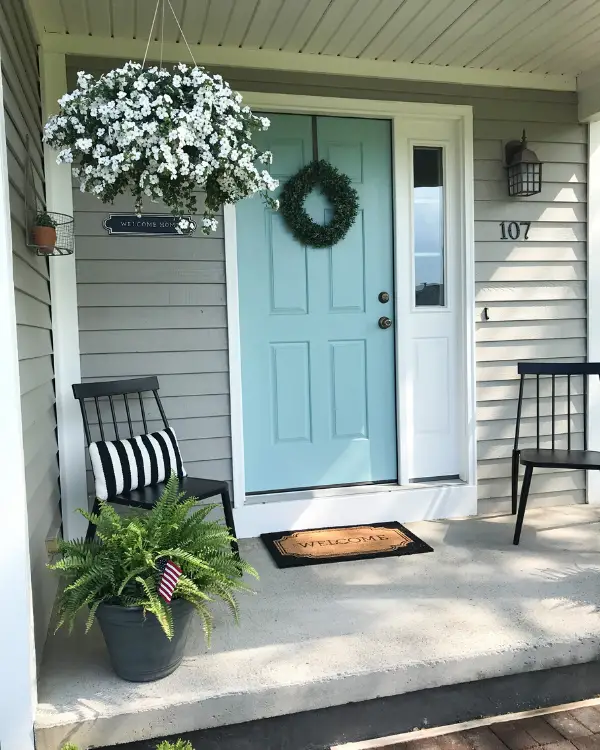 9. Repose Gray
Here is SW repose gray in the basement laundry room and bathroom. It is a really popular color that can be found all over Pinterest. It's just a really good greige color that reads more gray without any weird undertones.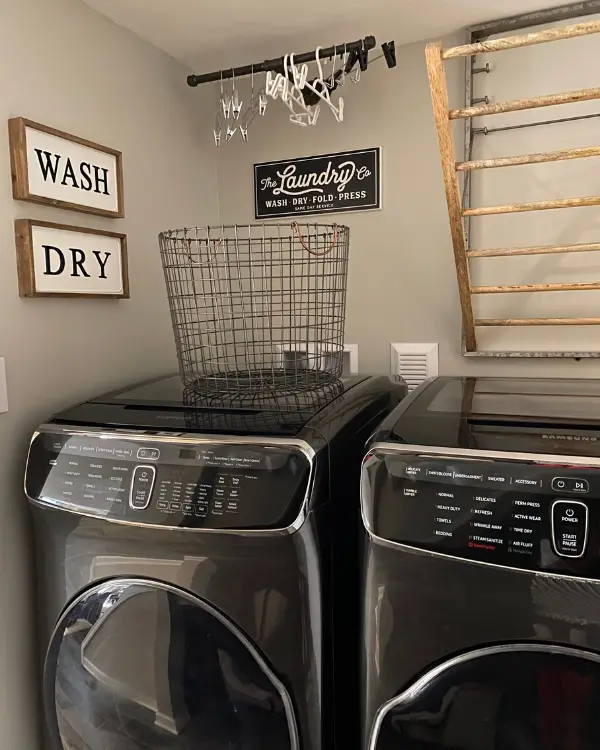 (You can read more about the laundry room here.)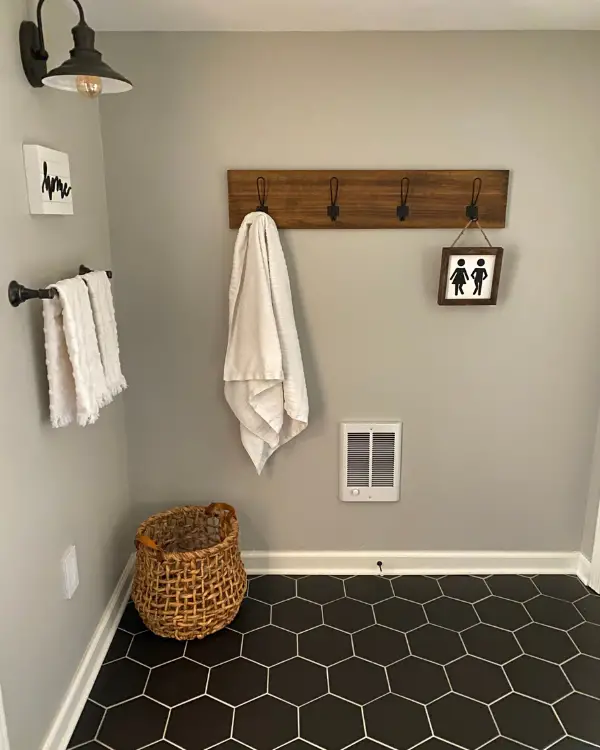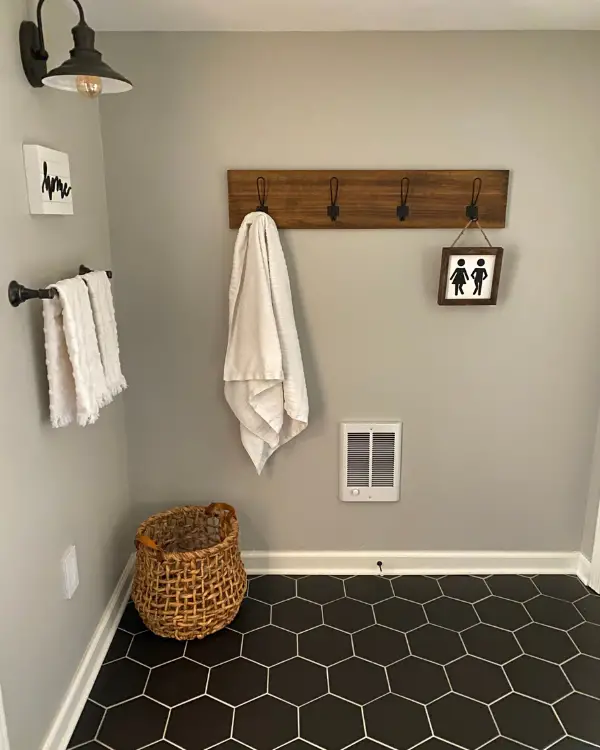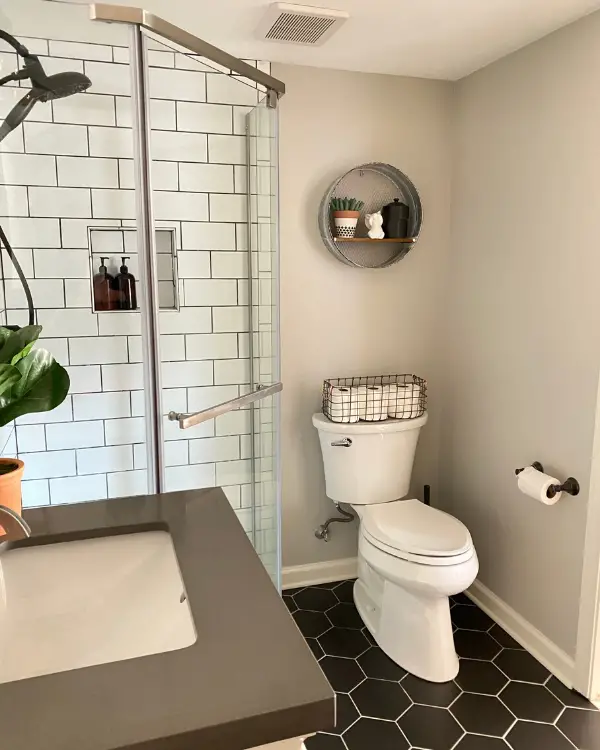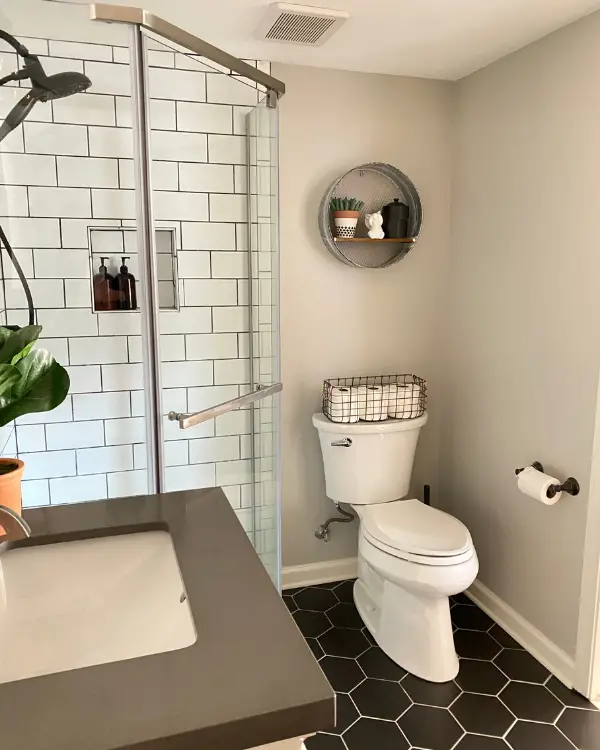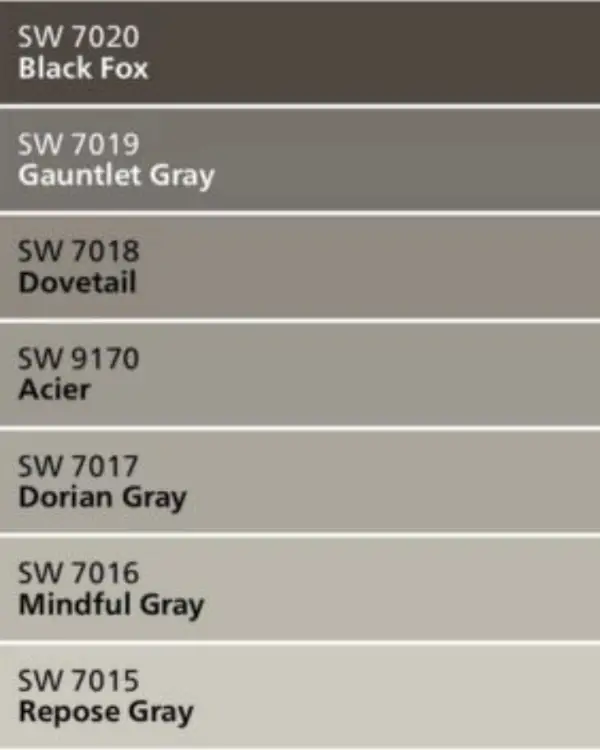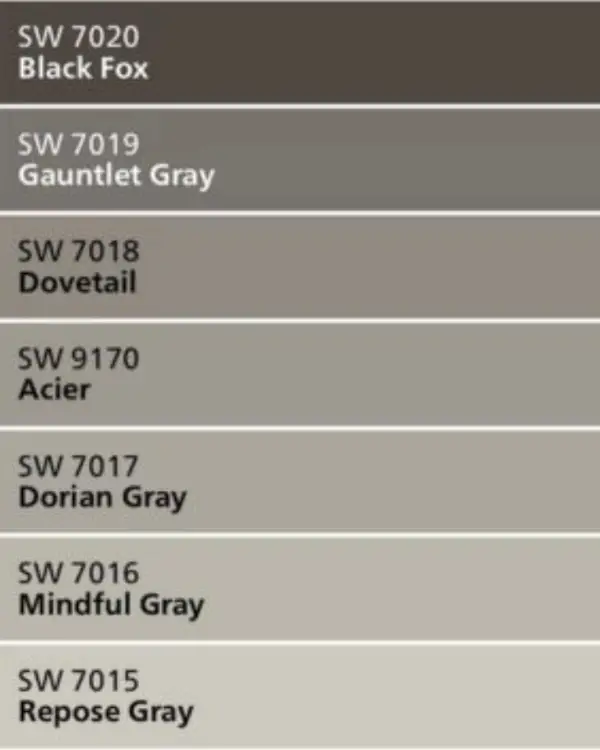 10. Tricorn Black
Tricorn black is a true black. It is rich and deep.
When I was painting the railings and banisters on the staircase, I originally was going to go with iron ore. Iron ore is a gorgeous black! I love it on my fireplace and surrounding shelves. However, as you can see in the picture below, the iron ore on the left compared to the tricorn black on the right didn't look dark enough or a true enough black here. At least for the look I was going for! So keep in mind how colors can change from room to room and in different lighting!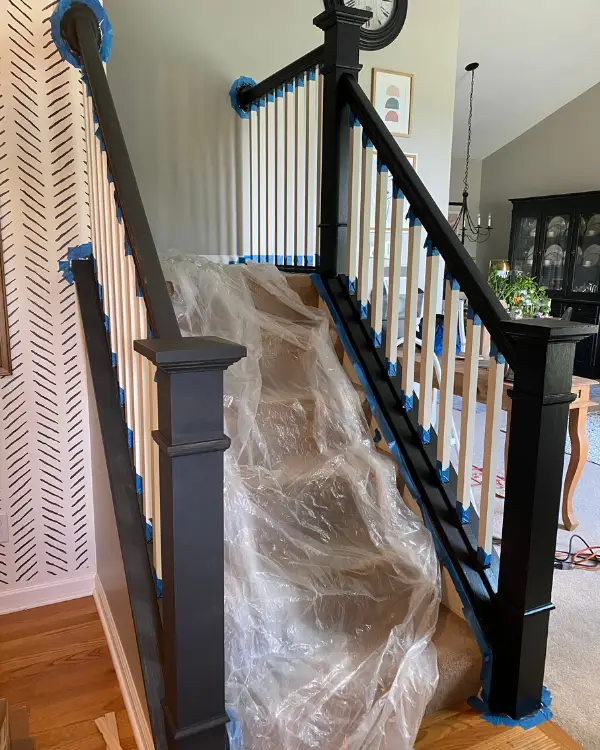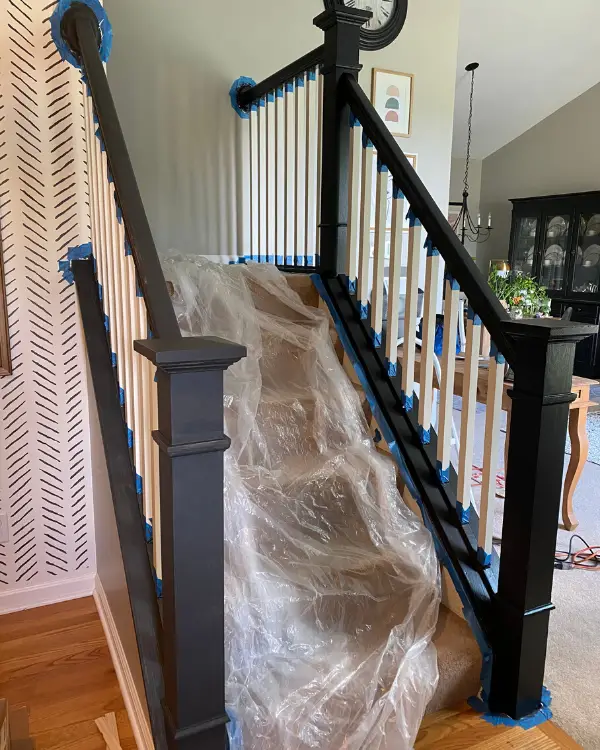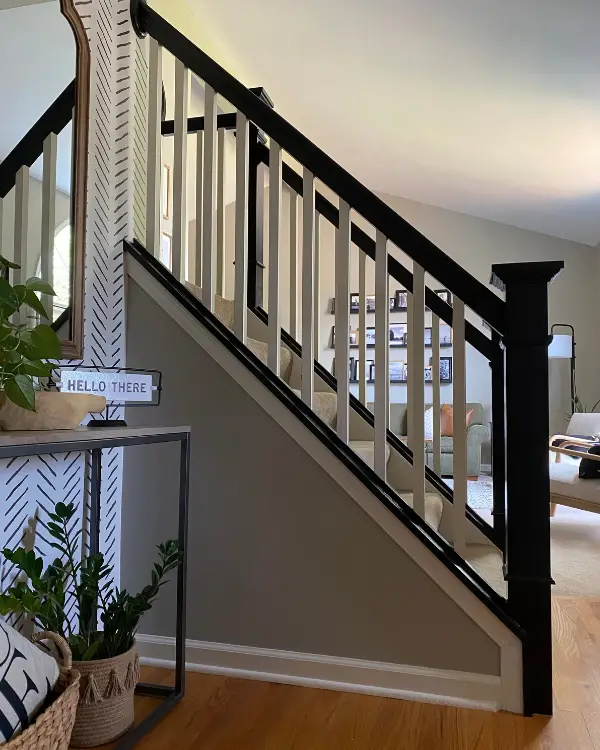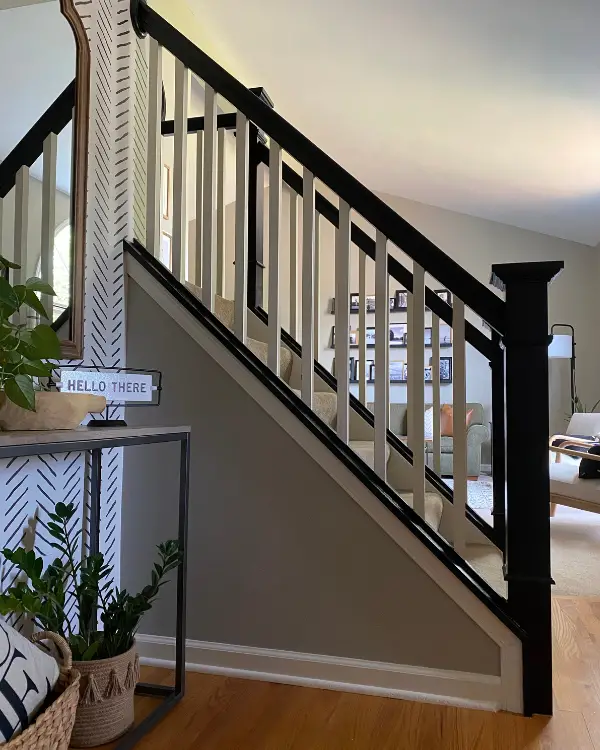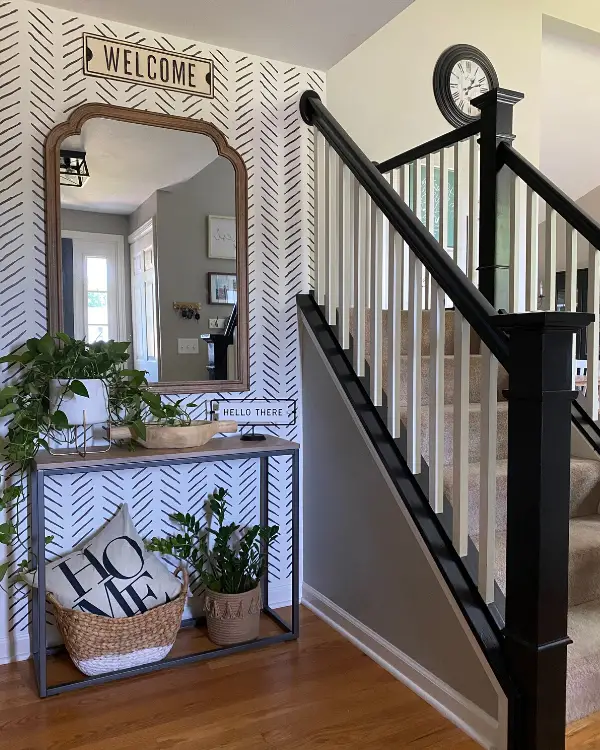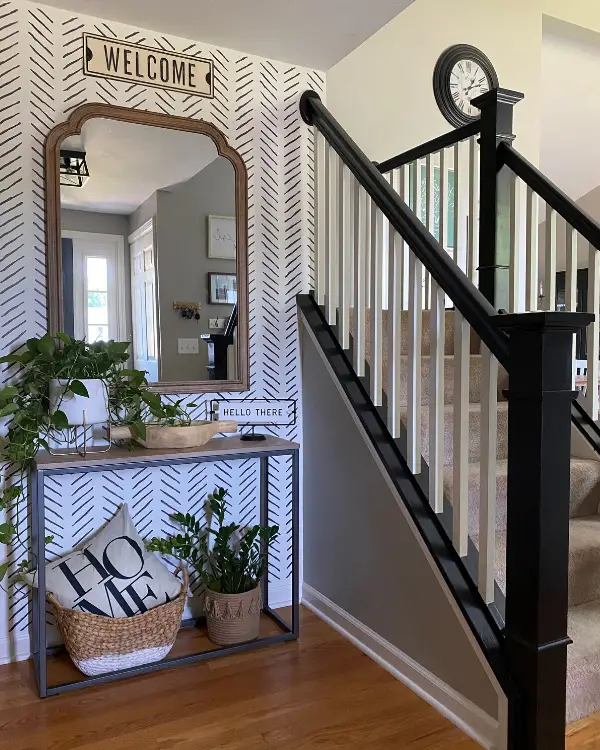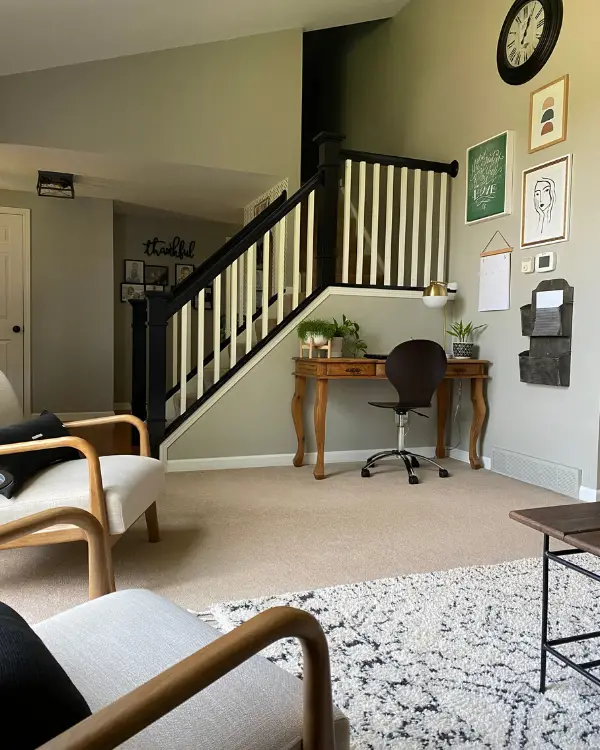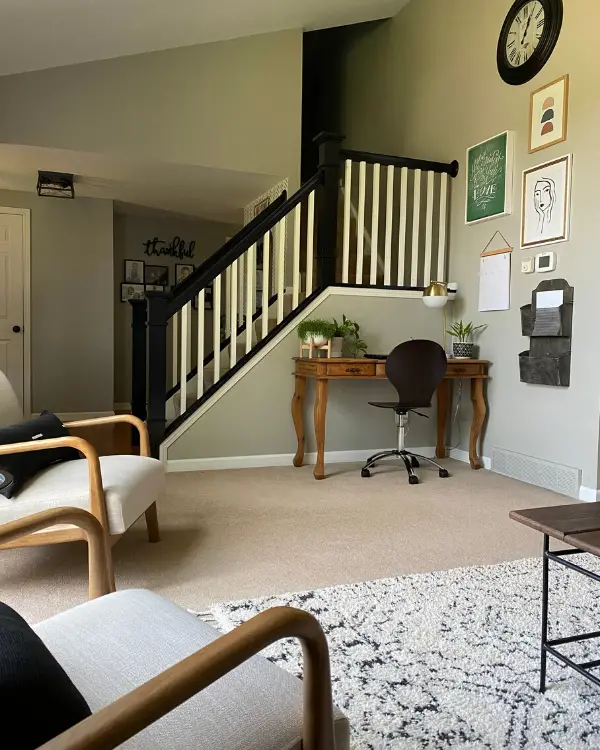 Shop this Post

---