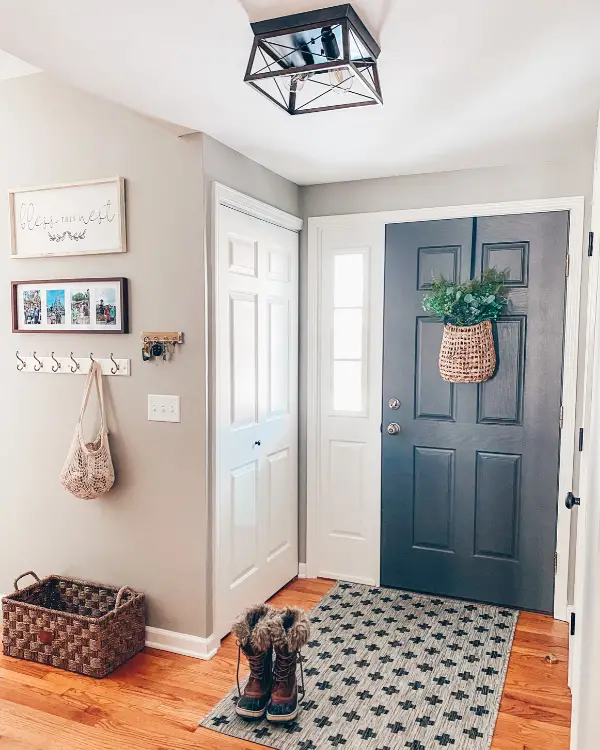 7 Ways to Add Pizzazz to Your Entryway; Entryway Ideas
Entryway Remodel
The entryway is a part of the house that doesn't always get the attention it deserves. However, it is the first thing everyone sees when entering your home, so it should really make a big impact! When we remodeled our entryway, I learned what can really transform the space and add functionality as well. Here are 7 ways to add pizzazz to your entryway.
(This post contains affiliate links. This means I receive a small compensation at no cost to you. For example, as an Amazon Associate I earn from qualifying purchases. You can read more about it here. Thank you for your support!)
1. Paint the interior front door a bold color, and a different color from the rest of the doors in the house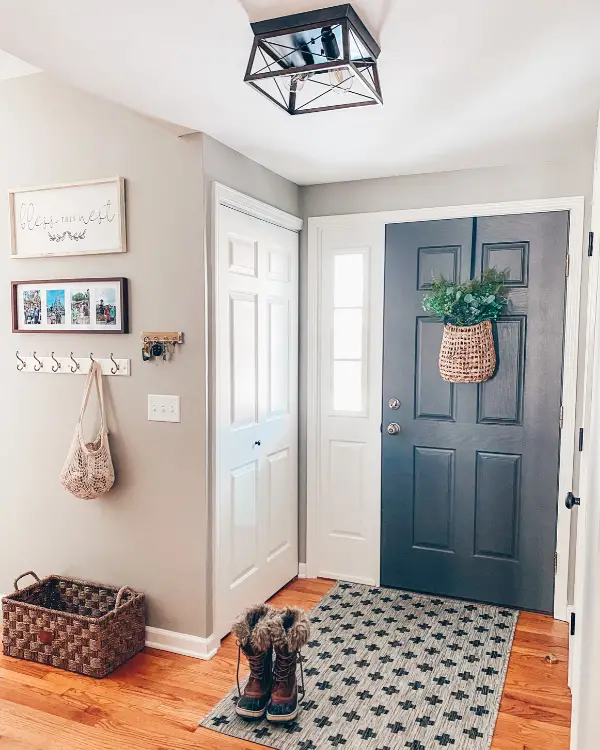 All the interior doors in our house are white. I chose this very dark gray, almost black paint as the color of the interior front door (Sherwin Williams peppercorn). The bold and different color makes it pop and stick out. After all, it is the main door of the house.
2. Hang something on the interior door
I like to hang this hanging basket and change it during the seasons on the door. Usually you focus on the outside of the front door, but the inside is a fun place to put something as well. A double door hanger comes in handy for this, so you can easily hang a wreath or something outside as well. (See bottom of post for a link.)
3. Choose a rug that is an indoor/outdoor rug, one that you love, and that is the perfect size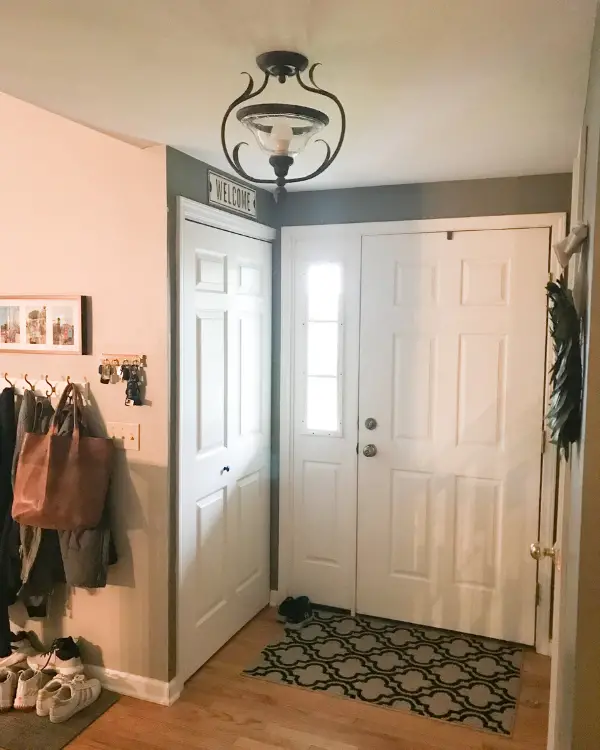 This is a picture of the entryway before the changes. Here you can see what a difference painting the door made! Also, I originally had a smaller rug here that worked fine, but having a larger one makes more of an impact and is more practical. Speaking of practical, getting an indoor/outdoor rug is the best idea for such a high traffic area where shoes are always being worn in right from outside. It is so much more durable, easy to clean and longer lasting! This is also another way to introduce a focal point with a pattern that you love.
4. Choose a pretty light fixture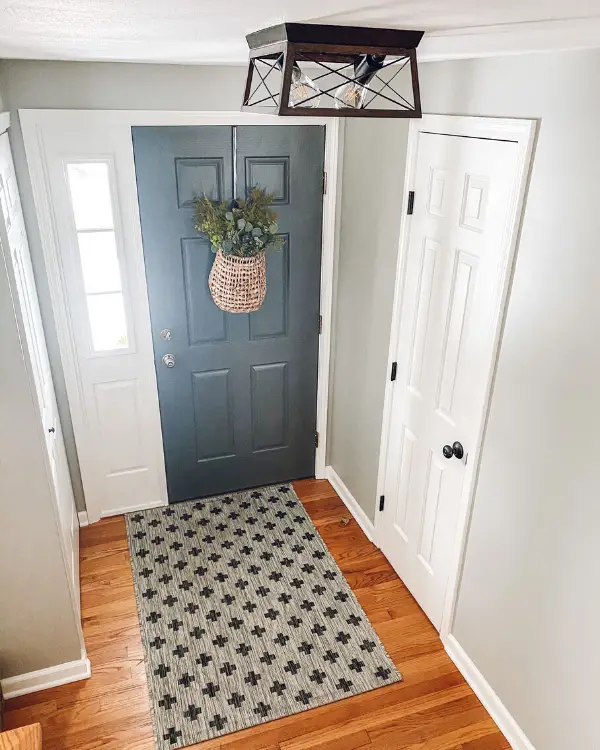 This may seem obvious, but sometimes we get caught up in the practical. You need a light here, but it doesn't have to be boring or dated. Find a suitable light that is also pretty! If you have height in your entryway, of course this is where you could put a spectacular chandelier that would add a ton of pizzazz! Even in an entryway with a standard ceiling height like this, I chose a light that I really love the look of. It's one that catches my eye often.
5. Use lots of hooks of course!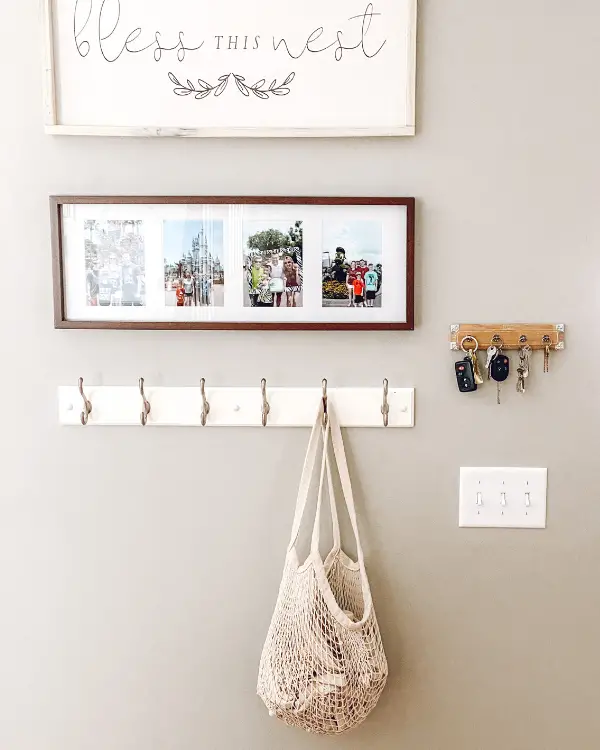 Using hooks in an entryway is nothing new. Although if you haven't also invested in hooks for your keys, I highly recommend it! Basically the idea is everything needs to have a place. We have a hall closet as well that stores a lot of jackets, hats, scarves, etc., but hooks are necessary for the daily grabbing of jackets and bags quickly and easily.
6. Have an accent wall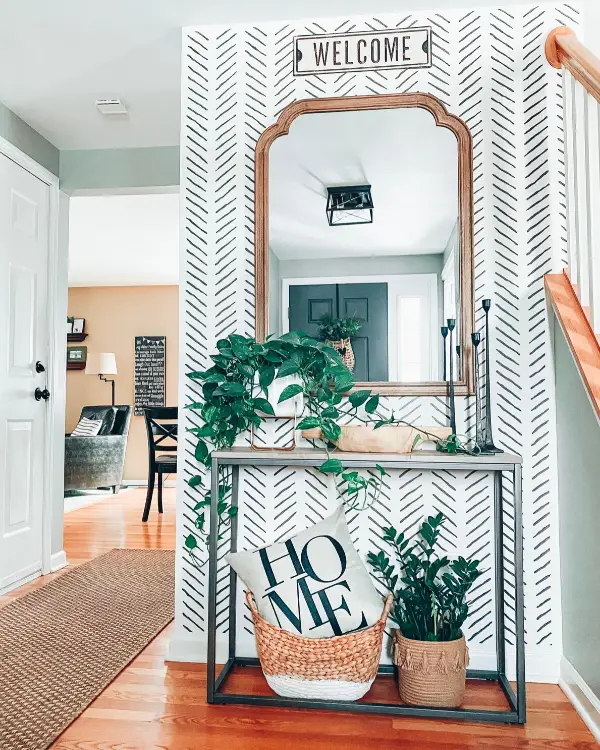 This wall is the first thing you see when entering our home. We stenciled the wall which definitely added pizzazz that was missing before! In this particular update, we also removed the door chime completely. This left room for a welcome sign and a larger mirror, and I just like the look without it so much more! We went with a wireless doorbell instead. You can read all about it here: https://lizzydesignsblog.com/say-goodbye-to-that-ugly-doorbell-chime/
7. Pick the perfect wall color and wall decor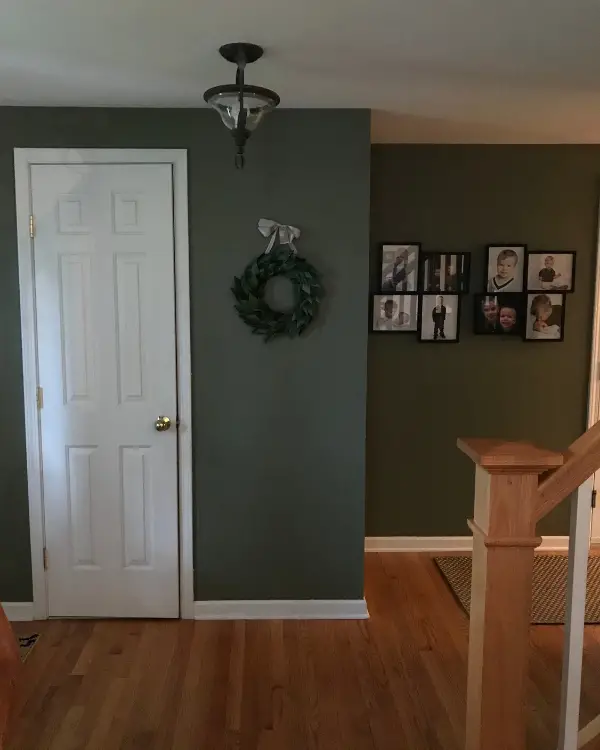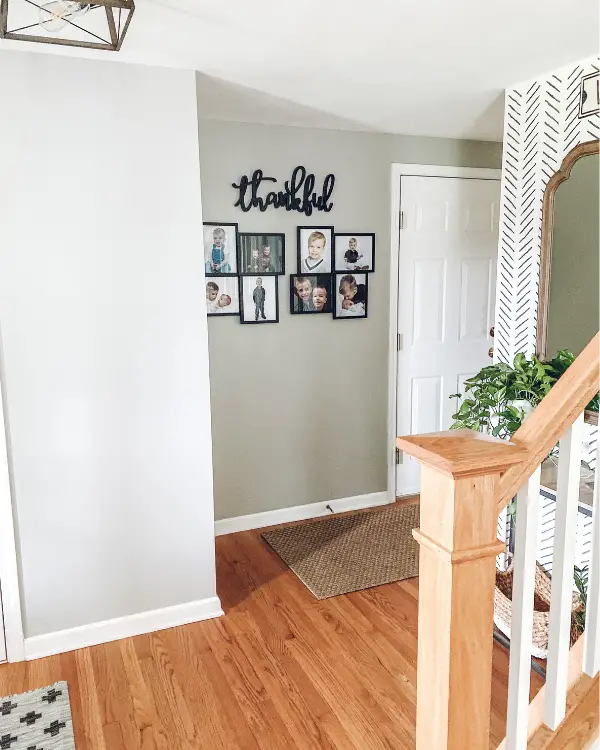 The before picture shows how we used to have a darker color on the walls. I chose a lighter gray, besides the white on the accent wall, and it really lightened and brightened the whole space! (walls: Sherwin Williams mindful gray; accent wall: Sherwin Williams alabaster and peppercorn) I decided to keep the portraits of my boys up, because I love them, and added a "thankful" sign. The blacks pop well against the gray. The point though is to hang things up that you love!
That completes the list. Our entryway was transformed from a dark and blah space to one with lots of pizzazz! I love to see it first thing when I walk in.
Shop This Post

---