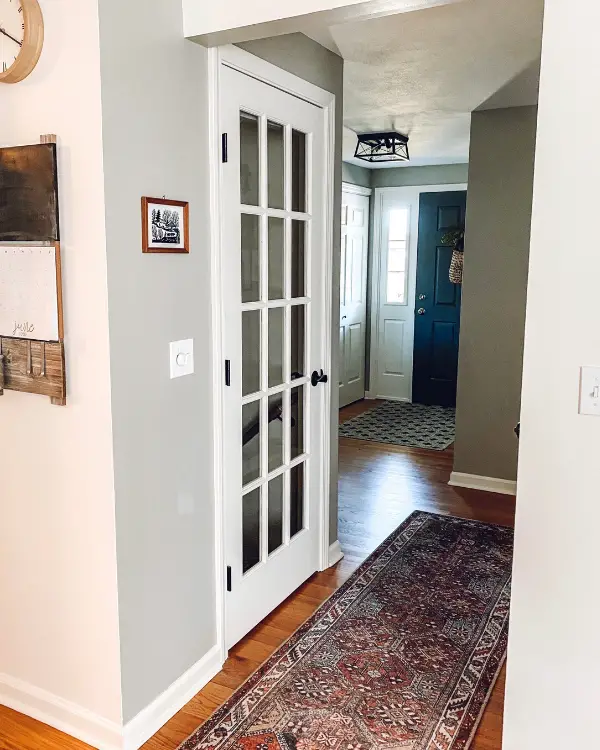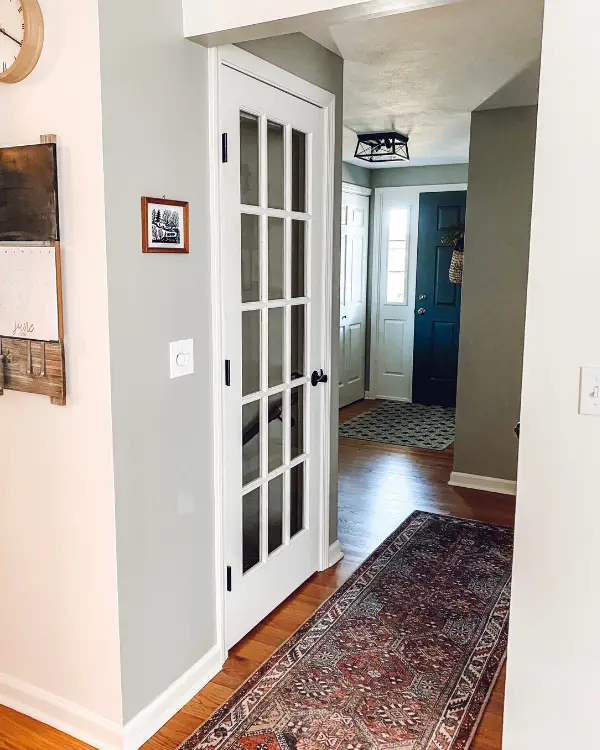 10 Things You Won't Regret Doing When Finishing a Basement
We finished our basement around two years ago now. After living with it this long, we have grown to really appreciate certain things that we did when finishing it. I have compiled a list of 10 things that we did that we not only don't regret doing but are thrilled with! If you plan on finishing your basement, I hope reading this list first will help you in the decision making process. Here are the 10 things you won't regret doing when finishing a basement:
(This post contains affiliate links. This means I receive a small compensation at no cost to you. For example, as an Amazon Associate I earn from qualifying purchases. You can read more about it here. Thank you for your support!)
1. Waterproofing
First things first, you're going to want to protect your basement from water coming in and causing damage. It's important to have a professional evaluate your basement to see what your needs would be. You don't want your newly finished basement to be unprotected!
2. Adding a Built In Dehumidifier
Basements tend to be prone to moisture and being musty. Before we finished ours we went through quite a few free standing dehumidifiers like the one shown above. We opted to go with a built in dehumidifier system. It is centrally located in the utility area and has ducting to wall vents in the living space. It is much quieter than a free standing unit and more powerful, too. It drains directly so there's nothing to empty, and you can also regulate how much or little humidity you want. It's so nice and handy not having a free standing one in the middle of everything or having anything to maintain, and the air feels fresh down there!
3. Removing Any Poles
Originally there was a pole in the middle of the basement. It was in the way of where we were going to have the couch, and we just wanted a more open feel without a pole being in the middle of everything. So we had it evaluated and removed by professionals. In it's place they put a support beam across the ceiling and two new poles on either end that are out of the way and encased in the new walls. In the picture above you can see where one of the new poles was placed by the stairs before it was encased.
So glad there isn't a pole in the middle of this room. That is why it is one of the 10 things you won't regret when finishing a basement!
4. Adding Egress Windows
The addition of egress windows made such a huge impact! They give less of a basement "feel" and add so much light and beauty to the space. It's also so nice to open them and get fresh air. They also make the basement up to code, allowing for sleepovers (second exit/fire escape). This was important to us to of course make it safe, but also because we planned on using the space as a guest room as well as for sleepovers for our kids and their friends.
5. Adding a Bathroom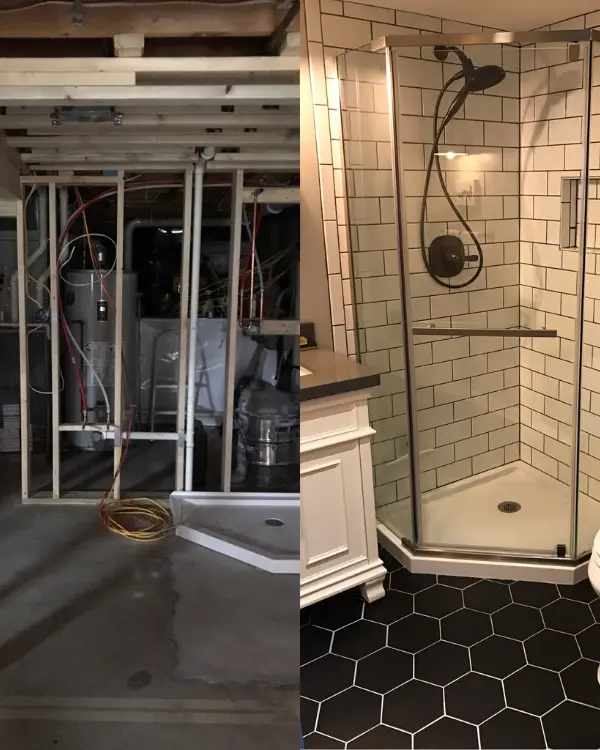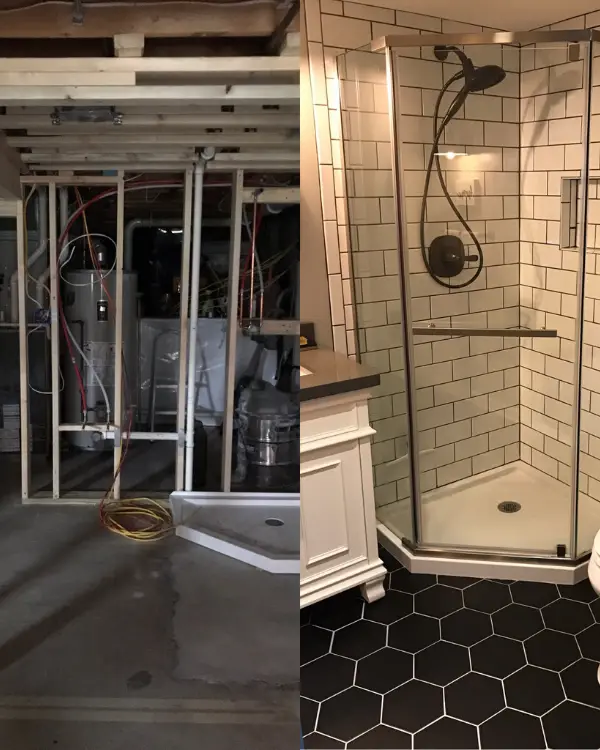 Before finishing the basement, this house only had one and a half bathrooms. So we really don't regret adding one down there. It is convenient to have one for when you need one and are down there already, but it is also nice to have another shower in the house when the other one is in use. The basement would also be used as a guest room, so then a full bathroom is also perfect to have for overnight guests.
You can read more about the basement bathroom addition here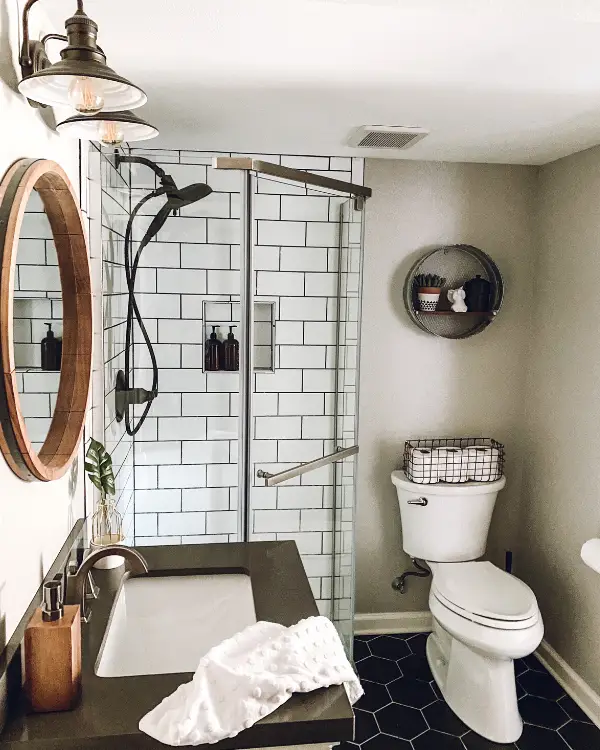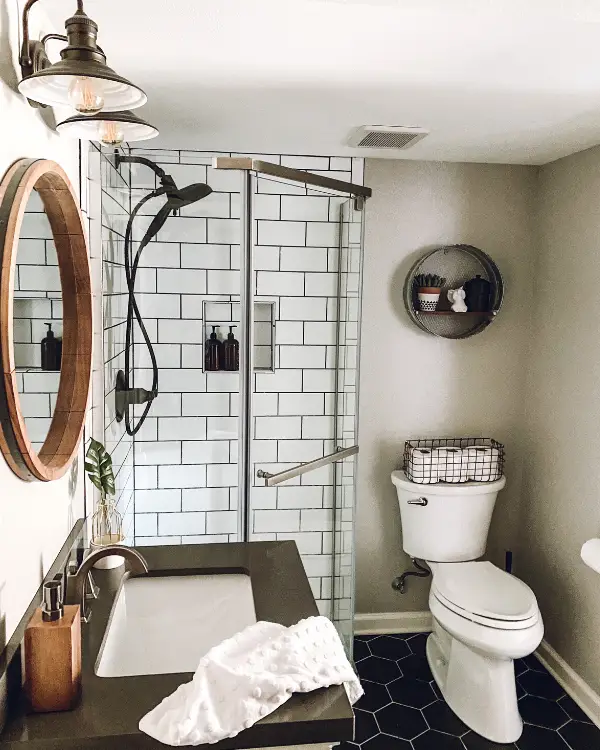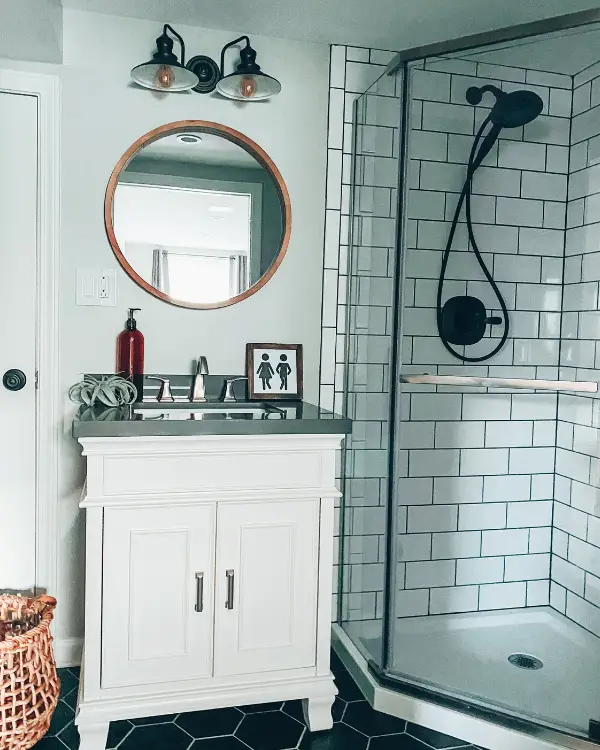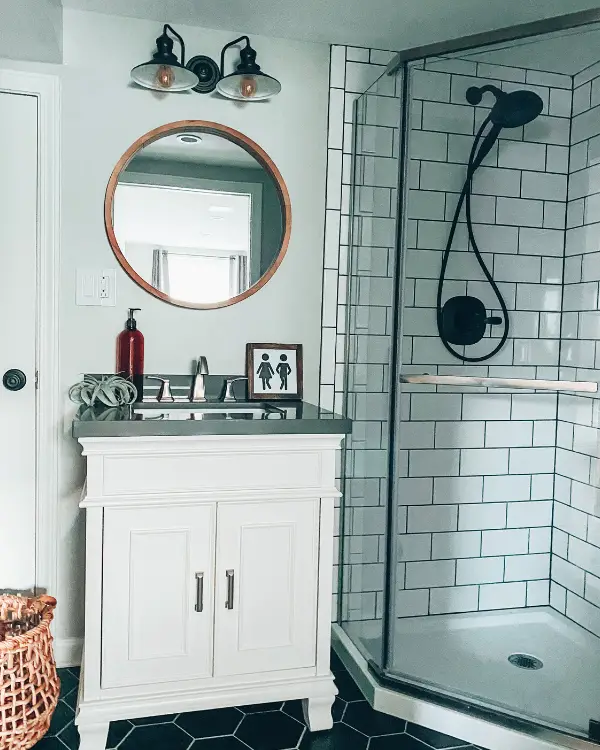 6. Using Pocket and Barn Doors
We had two spots that needed doors, one to the laundry room and one to the bathroom. Due to the smaller size of the basement, we chose to do a barn door and a pocket door. The look is so clean without any doors swinging open, and the barn door especially adds a lot of character.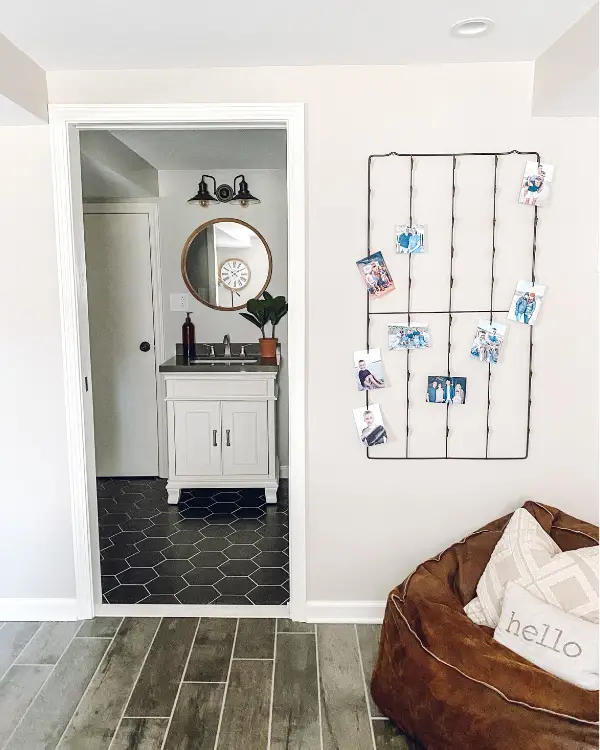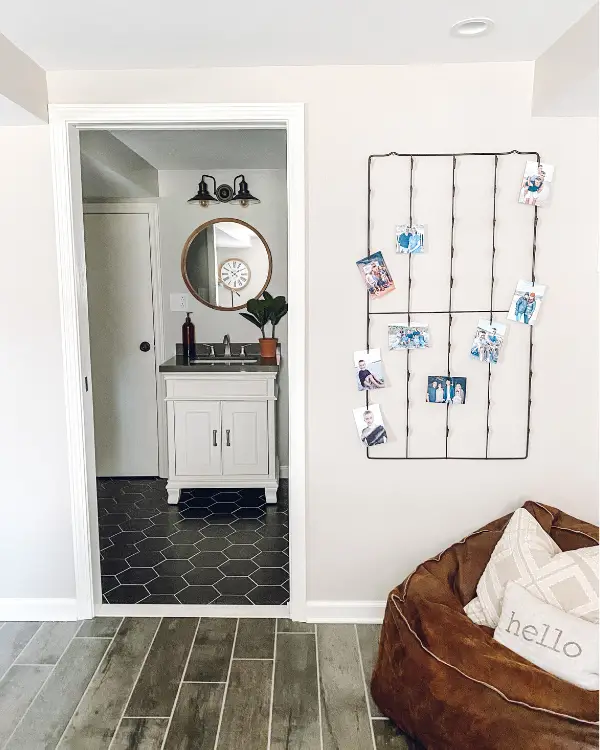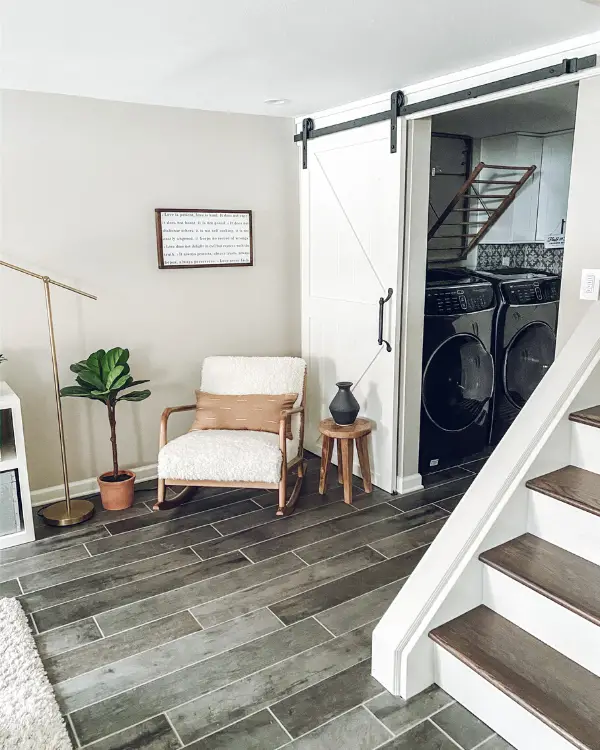 7. Using a French Door Entrance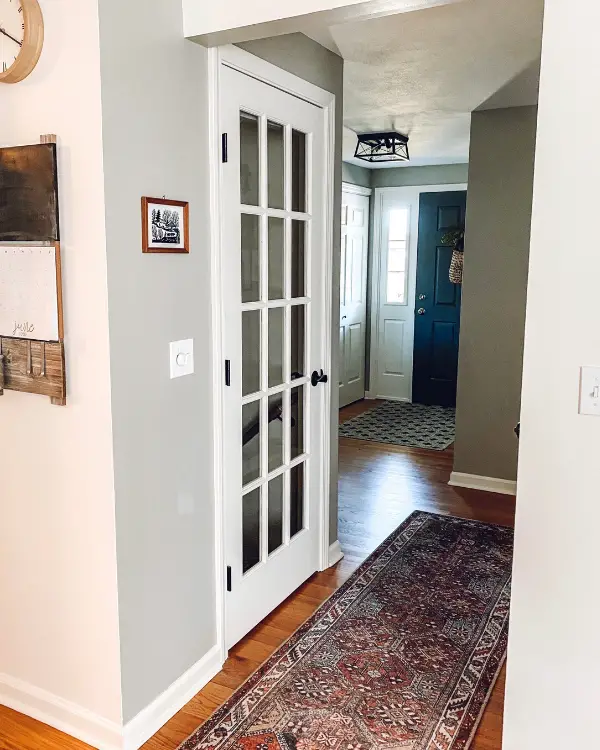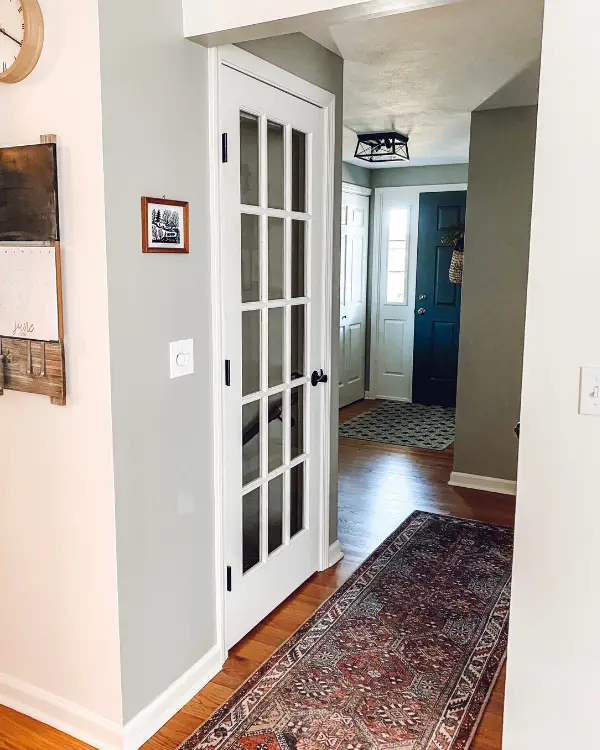 I really love the look of French doors. This was a great place for one because it not only looks great both from the downstairs and upstairs, it also opens up the space. I like that when you are in this hallway you automatically get the feeling that there is more space downstairs, and not just a door blocking your view. We also added a pull down shade on the other side of the door in case anyone wants privacy or to darken the room.
8. Adding Stair Lights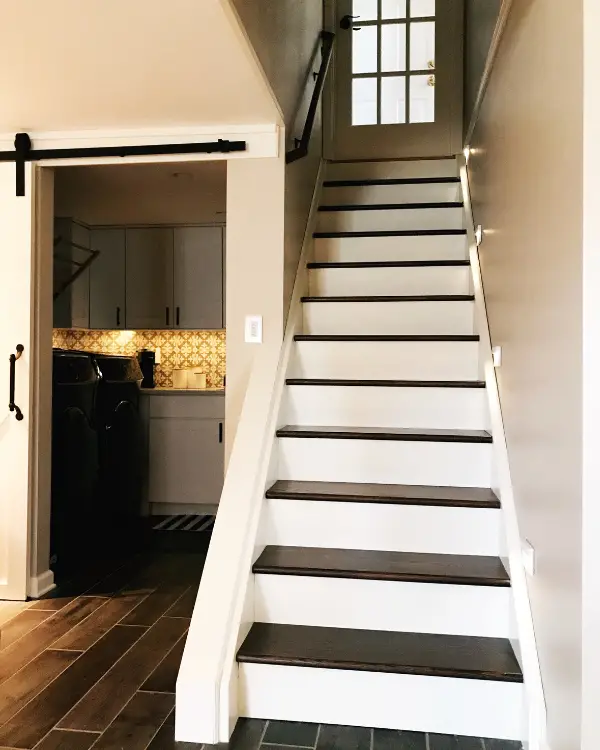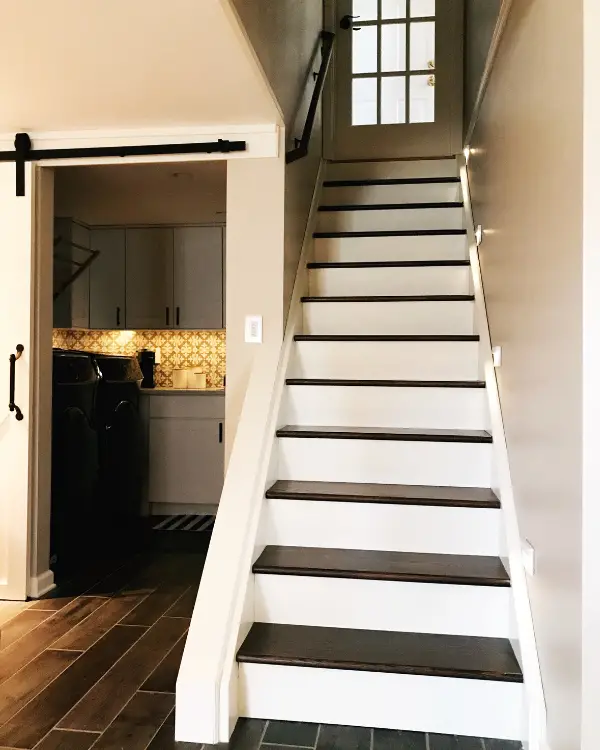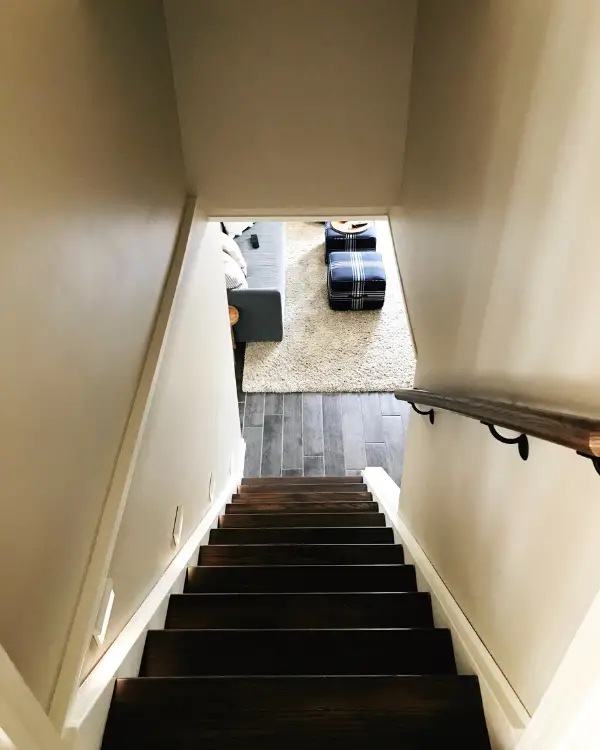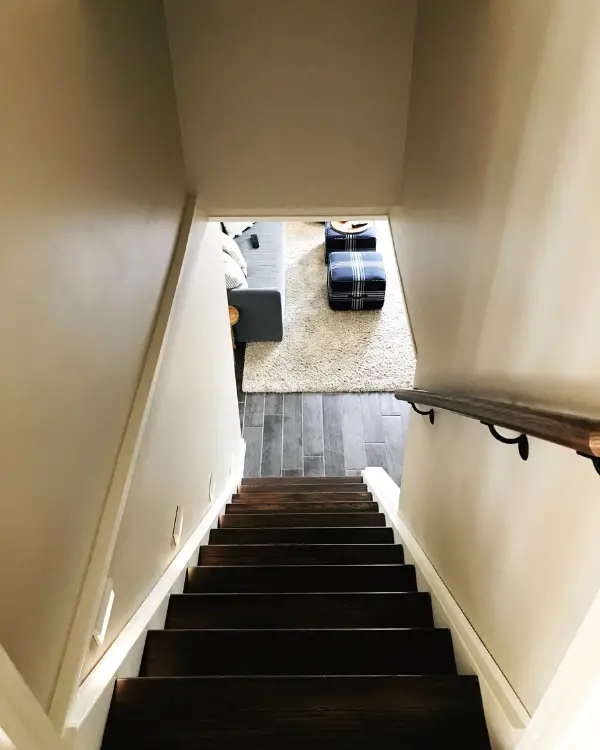 When stair lights were first recommended to me, my first reaction was that they were unnecessary and even a little frivolous. Now I'm so glad we did it. Not only does it look great, it actually comes in handy when the staircase is dark (there aren't any other lights here). They also add a great ambiance during a movie night as well as a lit path on the stairs if needed. You won't regret adding them!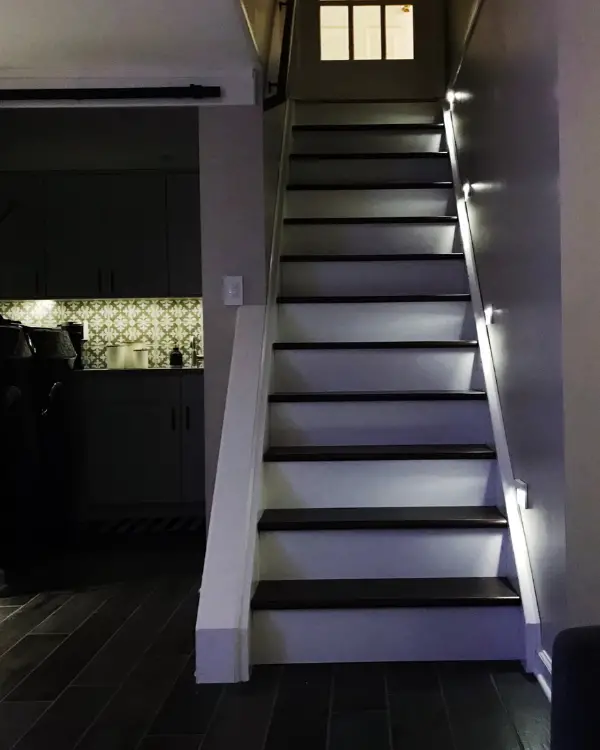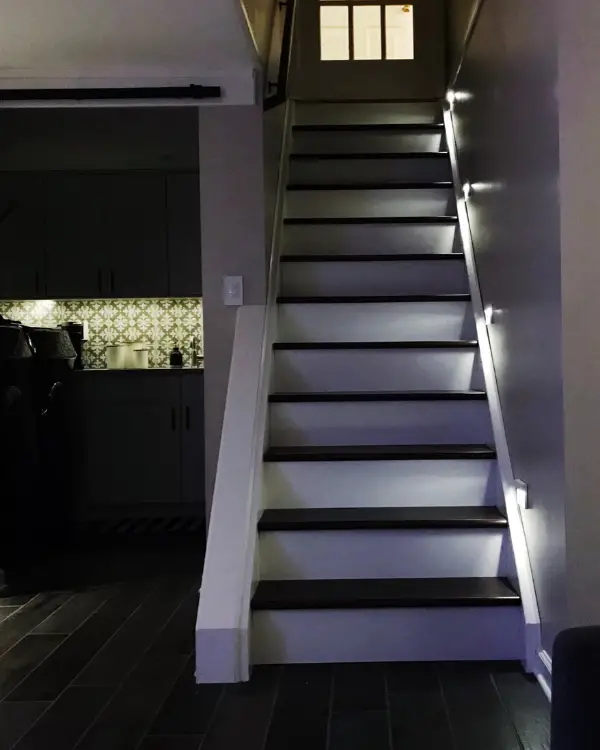 9. Fitting in an Extra Refrigerator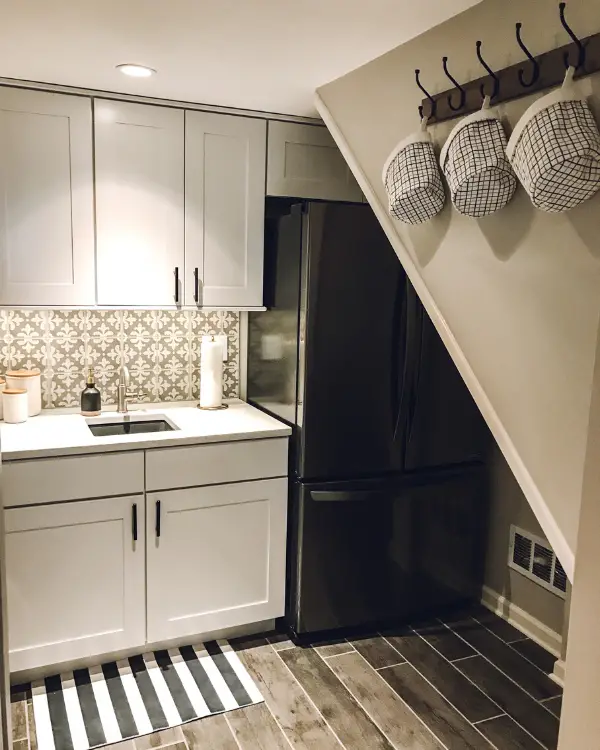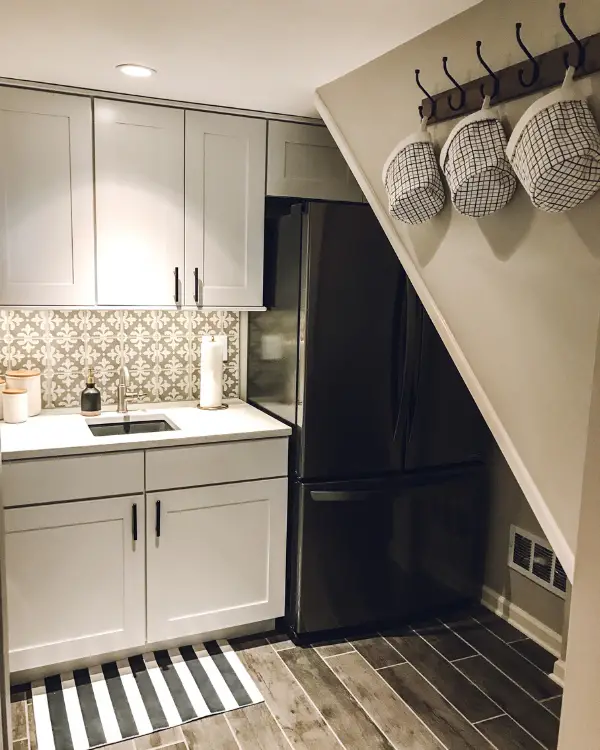 An extra refrigerator just fit in this spot in the laundry room under the stairs. We love having it here! It's always helpful for extra food storage for the family or for a party, plus it's great for grabbing a drink or snack while you're in the basement.
You can read more about the laundry room here
10. Creating Lots of Storage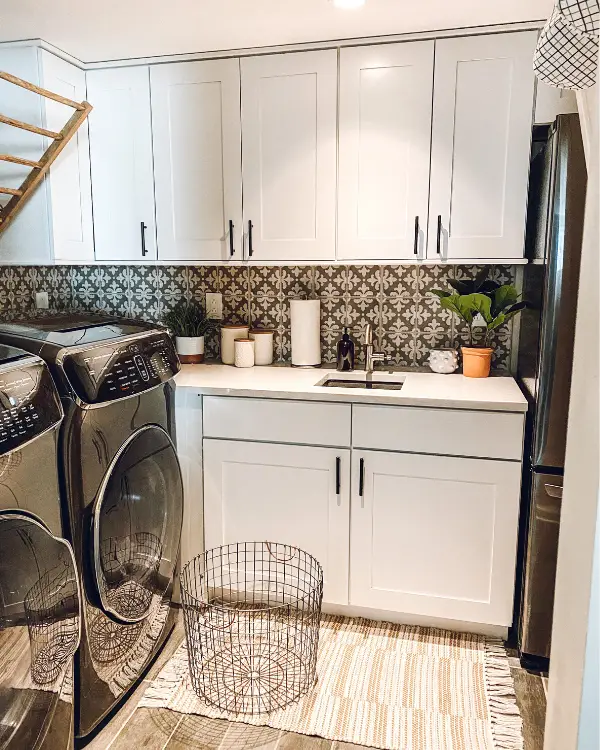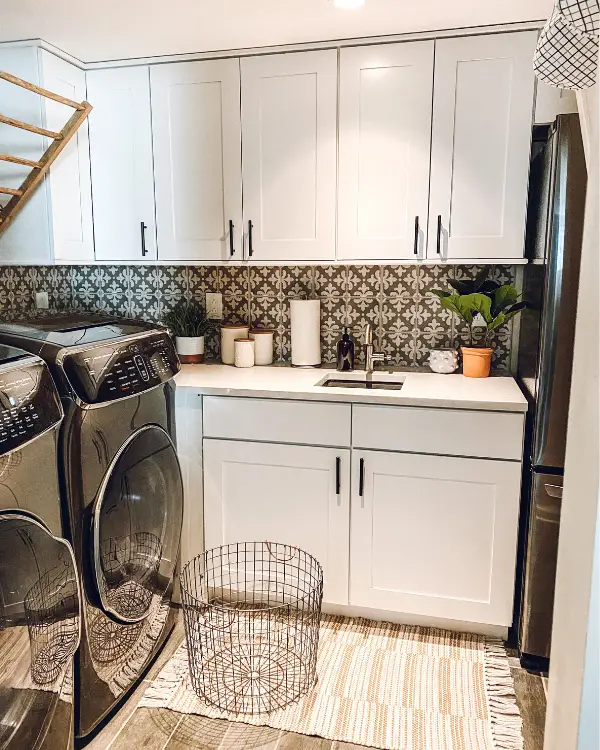 You just can't have too much storage space. When designing the cabinet that would go under the tv, I wanted there to be cubbies to fit containers for storage. We have the kids' school papers, craft supplies, games, dvds, toys, etc. in these bins. We also made sure to fill the laundry room with cabinets as well. In there we have cleaning supplies, snacks, paper towels and more. You will never regret more storage!
You can read more about the entertainment center and cubbies here
That completes the list of 10 things you won't regret when finishing a basement.
Shop this Post

---