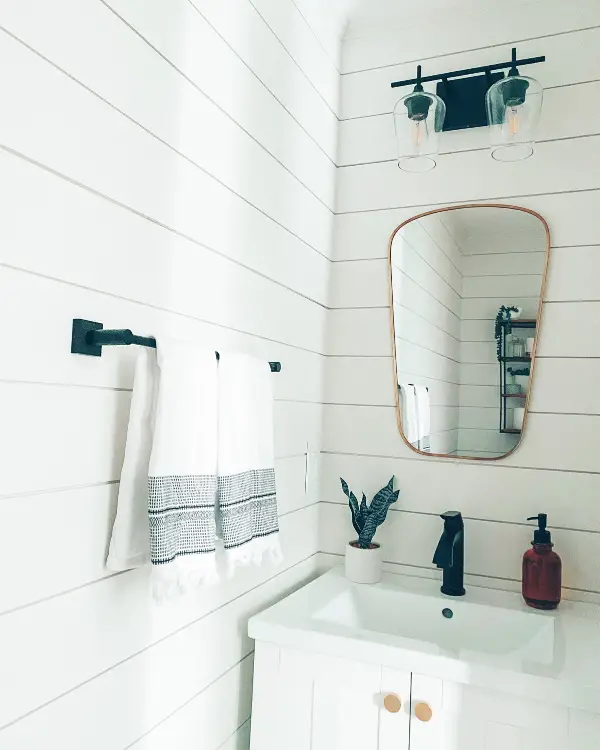 12 Ways to Make A Small Bathroom Look Larger
I am going to take you through the 12 ways we made our small bathroom look larger. First let me take you back and show you what it looked like over the past 20 years!
(This post contains affiliate links. This means I receive a small compensation at no cost to you. For example, as an Amazon Associate I earn from qualifying purchases. You can read more about it here. Thank you for your support!)
The Before
We have this very small half bathroom on the main floor. It measures 2'3″ by 6'10". When we first moved in almost 20 years ago, it had a linoleum floor, wallpapered walls and an oak vanity. The trim and doors in the whole house were brown. None of these things appealed to me, and a lot of them made this room look even smaller.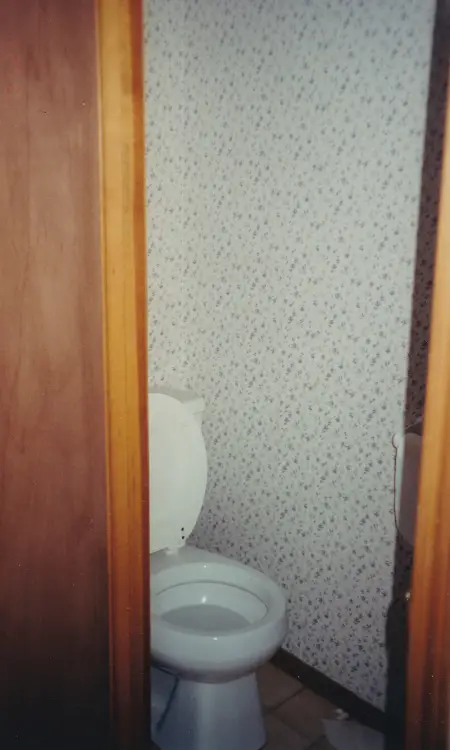 The wallpaper was the first thing to go. Then we changed out the vanity to a pedestal sink and added a new light, mirror and accessories. I chose a dark cranberry color for the walls. Not sure what I was thinking, because this made it look even smaller! I just loved the color, so I guess that's all I cared about at the time.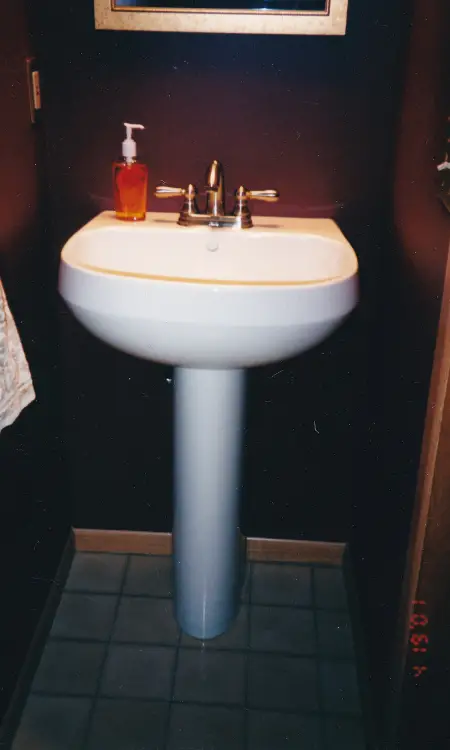 The linoleum went from the bathroom into the foyer and into the kitchen as well. Eventually we tore out all of that linoleum and went with hardwood. So now this bathroom had a hardwood floor. Several more years later and we lightened the walls to an off white. Already this made it feel larger in there! The dark walls really made it feel cave like. We also replaced all of the trim and doors with white ones.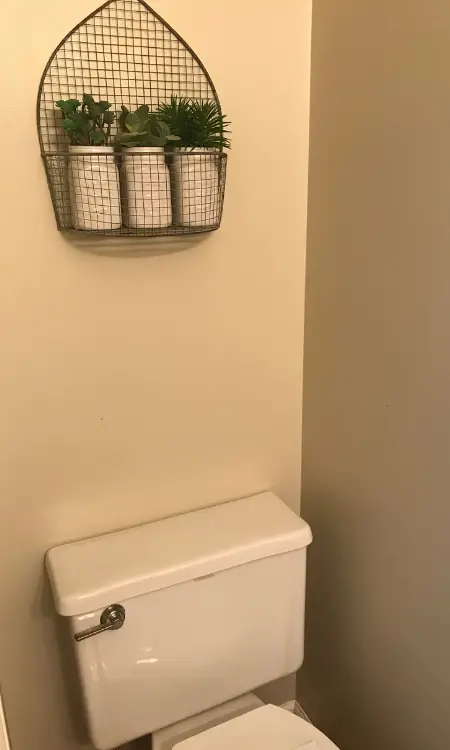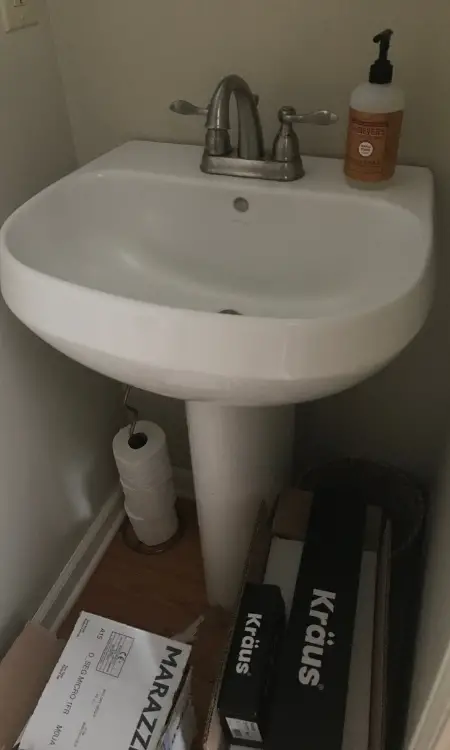 Fast forward to recent years, when a slow leak from the toilet resulted in a warped hardwood floor. (Tip: No hardwoods in bathrooms!)
After having a plumber investigate, we learned that we needed a new toilet and flooring.
So then I started thinking maybe it would be nice to have a vanity for storage instead of that pedestal sink.
Then I noticed that maybe the light was dated.
I wondered if we should maybe shiplap the walls while we're at it?
So that is when we decided to do a complete gut job!
The After
It was time to turn this small room that we had made look even smaller into a room that looked and felt larger!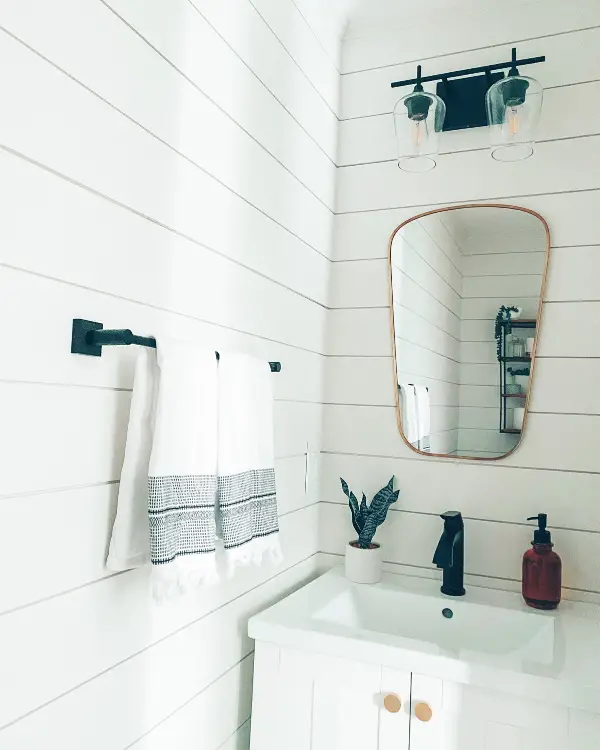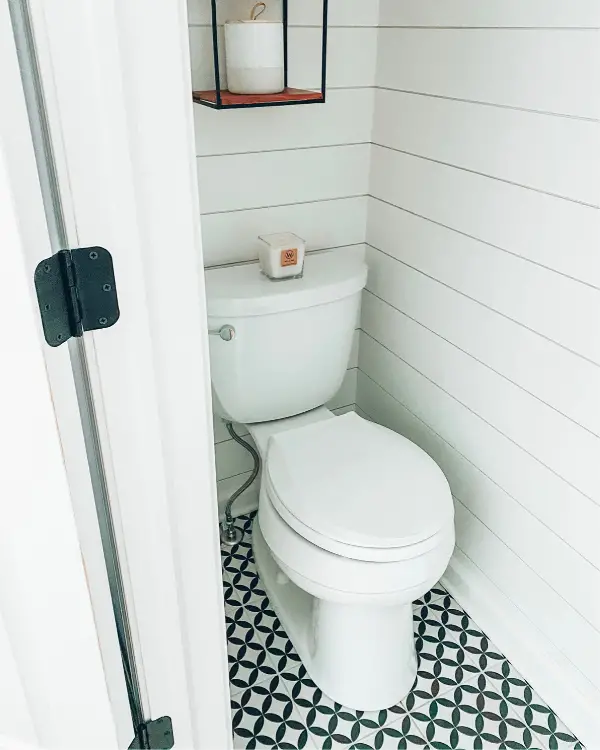 Here are 12 Ways to Make a Small Bathroom Look Larger
1. Shiplap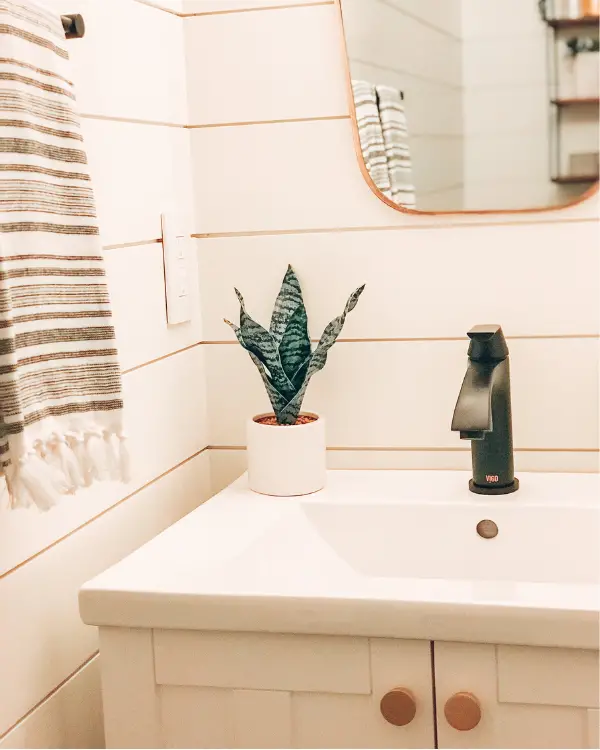 2. White Walls
Here's what we learned. It is true that darker colored walls make a small space look smaller. The dark cranberry walls we had initially, although a popular color at the time, weren't doing us any favors. Now not only does the white make the room look larger, so do the horizontal lines of the shiplap.
If you love the look of shiplap but are afraid that it may be a trend that will not stand the test of time, a bathroom is a great place to just go for it. It's a small space where you can go a little crazy! Same goes with the flooring.
3. Light Flooring
4. Larger Tiles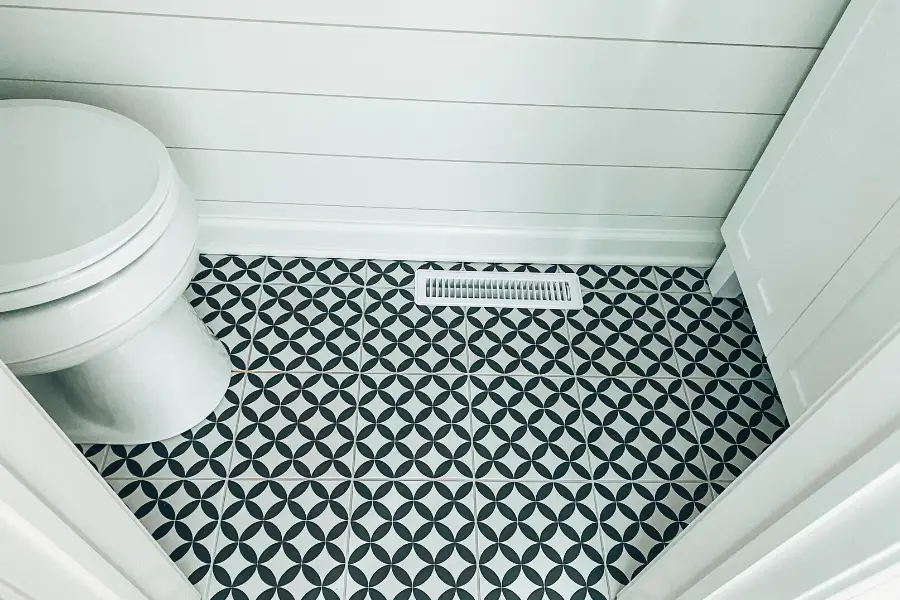 5. Flooring with Same Grout Color as Tiles
6. No Rugs or Floor Mats
I chose a tile with a fun pattern. This is the perfect space to have some fun with the flooring. In a larger room, a busy floor might be too much, and you risk getting sick of something that is always right in front of you. I love this pattern, and I feel the black and white is so classic. It will stand the test of time. The white base of it again lends to making the room look larger, as well as the larger sized tiles and a grout color that matches the tiles.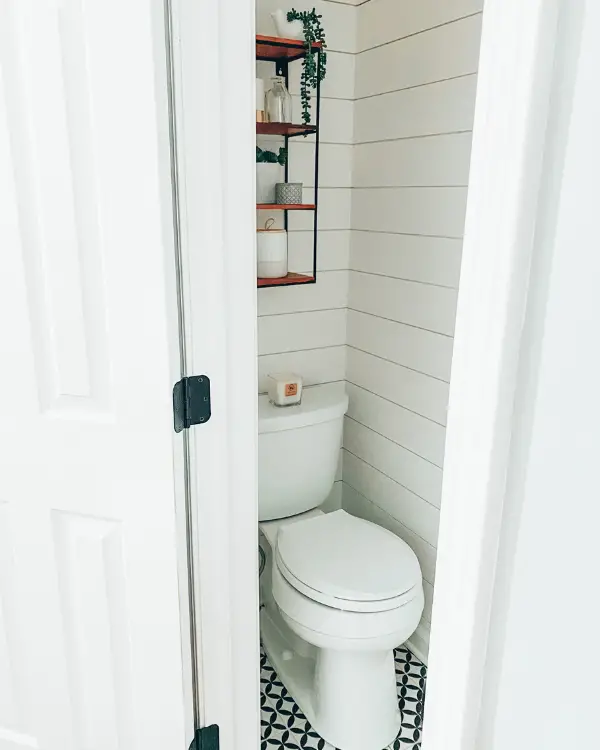 I remember wanting to find a cute little rug to put in here when we first moved in. First of all, I couldn't even find one small enough to fit! In any case, it would have just added more clutter to the room and would have made it look smaller.
7. Free Standing Vanity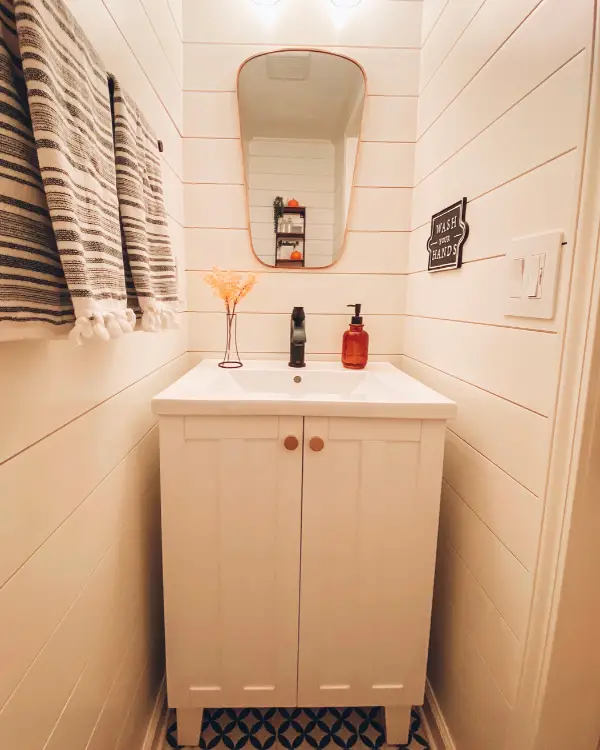 8. White Vanity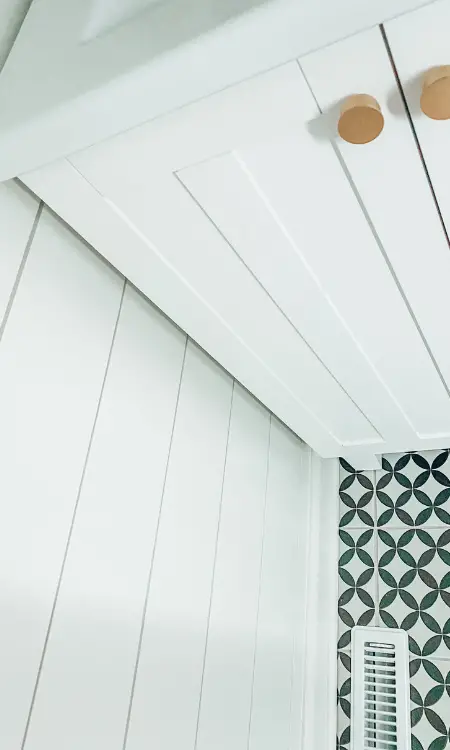 The vanity is white like the walls. This also makes the room look larger. It also may be surprising that it doesn't feel like too much white. Even the counter is white! It all flows so nicely and brightens up the whole space.
Since the vanity is free standing, that makes the room appear larger by opening it up and being able to see the floor underneath.
Going with a vanity instead of a pedestal of course leads to storage space, a must in a small bathroom. It's a great place for a small waste basket, extra toilet paper, towels and some cleaning supplies. This also helps limit clutter, which leads to the next way to make a small bathroom look larger.
9. Minimal Accessories and No Clutter
Try to resist putting out too many decorative items. Keep necessities away in the vanity. Too much "stuff" visually makes the room look smaller and literally makes it smaller, too.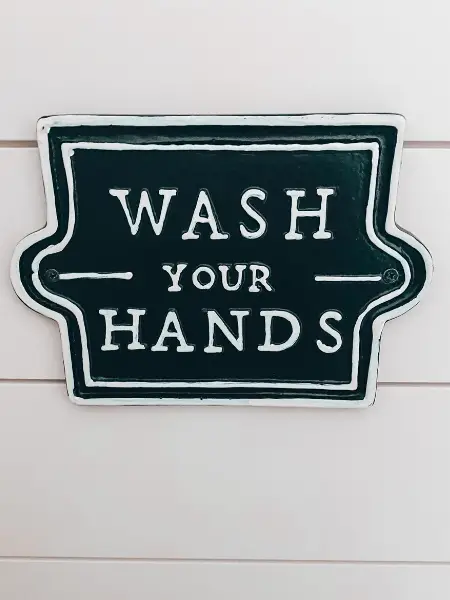 10. Minimal Wall Hangings
The shelving above the toilet of course also had to be narrow in order to fit, and I was thrilled to find the perfect thing. They are fun shelves to decorate and change out in the different seasons. By this and the vanity being the main spots for decor, it doesn't look too busy, and therefore again makes the room look larger with less clutter. Of course be aware not to put too much on the shelves, but instead keep it simple. Another option would be one large piece of art here.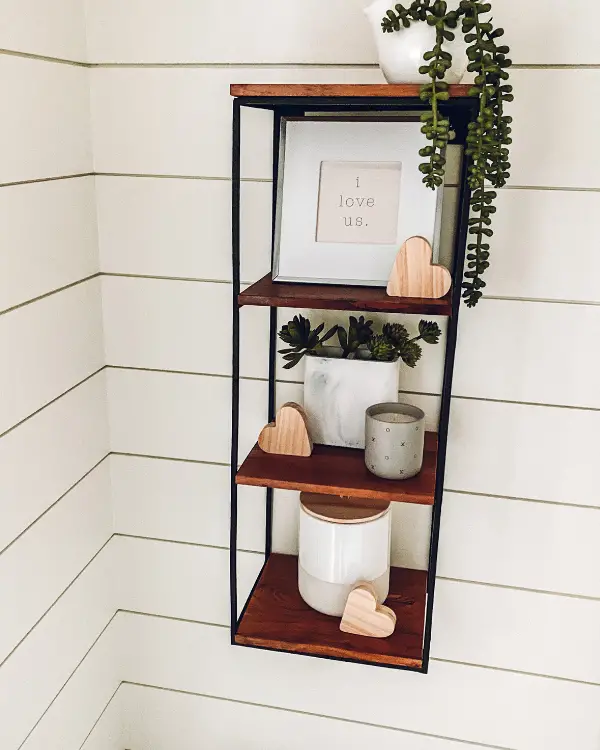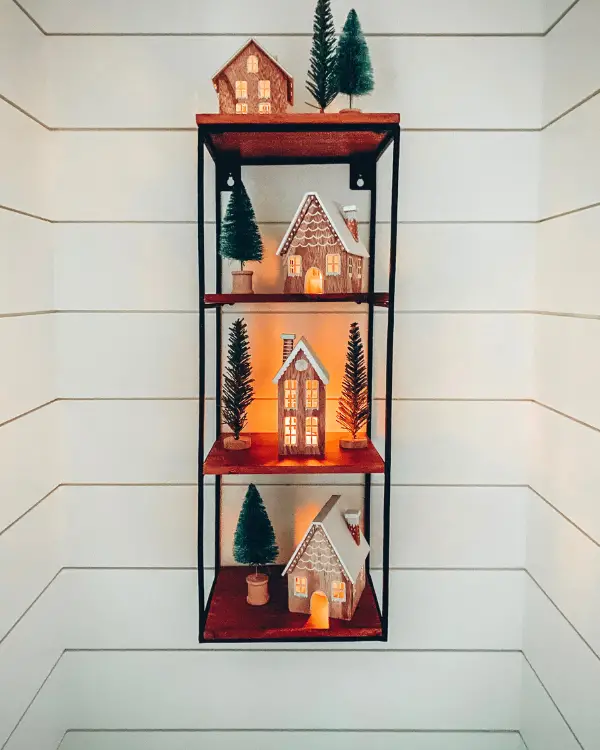 Accessorizing this space is so satisfying. It turns out that white shiplap is a great backdrop. It really makes things pop!
11. Mirror with a Thin Frame or No Frame
This mirror was the perfect fit for this space, and I love the gold accent that breaks up the blacks and matches with the vanity knobs. Having a thin framed mirror (or one with no frame at all), opens up the space and makes it look bigger.
12. Hang a Light Fixture High above the Mirror with Clear Glass Shades
This light fixture I felt was a nice modern touch that pairs well with the farmhouse style shiplap. Going with clear or glass elements like the shades on this light fixture also opens things up more and adds to making the room look bigger. Also aim to hang the light fixture on the higher side. That will also make the room look larger.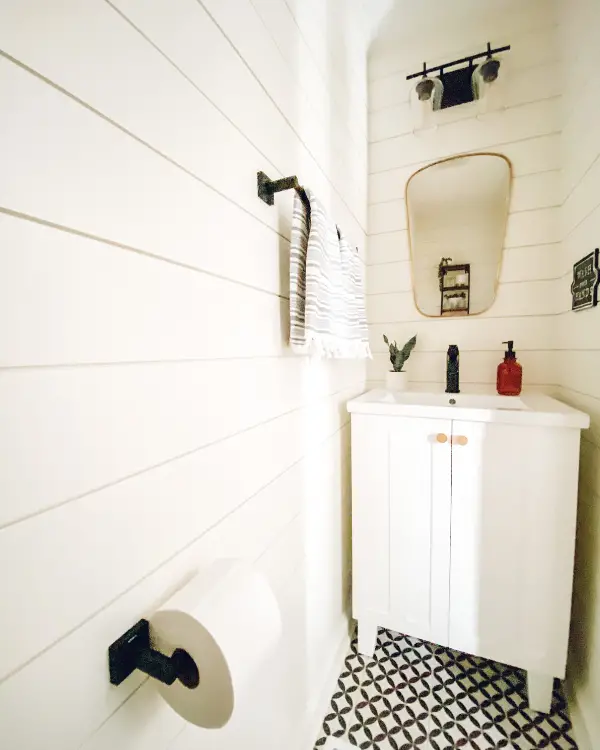 Overall, I am thrilled with how this renovation turned out. What a difference. Using those 12 ways to make the room look larger really worked!
Shop This Post

Also including the following:
Shiplap: https://www.lowes.com/pd/PrimeLinx-Shadow-Gap-Shiplap-5-375-in-x-8-ft-White-Radiata-Pine-Shiplap-Wall-Plank-Coverage-Area-3-583-sq-ft/1000689490
Floor Tiles: https://www.wayfair.com/home-improvement/pdp/itona-tile-encausto-8-x-8-porcelain-field-tile-itna3105.html?refid=TEM_WF_262&mmid=2161942068&csnid=8D1941B3-9AC6-46A8-A1FD-717B72445897&libra_c=&libra_d=&libra_g=
Gold Knobs for Vanity: https://www.target.com/p/gathered-knob-2pk-project-62-153/-/A-53518979?preselect=53130328#lnk=sametab
Mirror: Target, Hearth and Hand (no longer available online)
---